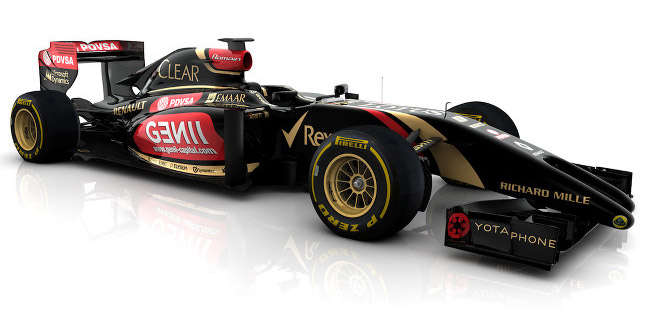 McLaren had been one of the first teams to confirm the date of its 2014 Formula 1 car unveil, and in return for its early-bird efforts, a couple of its competitors happily crashed the launch event via social media.
First, Ferrari announced the name of the Prancing Horse for this season: F14 T, which may also be read as "Fiat," the Italian team and carmaker's parent company. Next, Lotus revealed Eric Boullier's departure from his role as team principal, and Gerard Lopez's appointment to the post (rumors that Boullier is headed to McLaren escalated quickly thereafter). Finally, within 10 minutes of the MP4-29 microsite's going online, Lotus tweeted a photo of its own 2014 car, the E22.
The folks over at Lotus can be quite the trolls on Twitter (check it out for yourself), so in hindsight, this sort of hijacking shouldn't have come as a surprise. What's more surprising, really, is that the E22 has a two-pronged schnoz--more like a walrus take on the 2014 regulations' requirement for a single low nose tip, compared to the anteater versions we've seen on the McLaren and the Williams so far.
So, if the rules call for one snout, how is the E22's front end legal? In an Autosport.com article, F1 technical analyst Craig Scarborough offers the following explanation: "In order to meet the single lower nose tip regulation, the two tusks are of equal length, so the longer one forms the mandatory nose tip, while the other is short enough to avoid being considered part of the nose tip by the regulations."
Continue reading below ↓
Recommended Videos
Scarborough's theory on how such an approach could be beneficial, as discussed in the same article, is interesting, too, but right now we're still fixated on the design's freakishness. Will there be other cars to sport two nose tips as well?
Photos from Lotus F1 Team's Twitter account