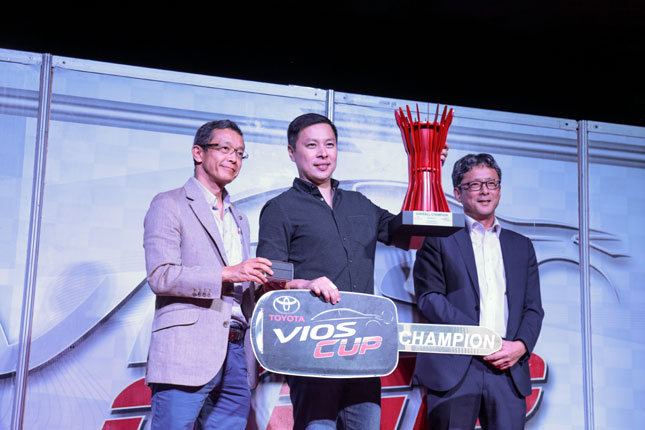 Ah, off-season. It's that time of the year to give the Vios Cup cars some rest after four intense races this 2016. As Toyota Motor Philippines wraps up another successful run of the Vios Cup, which drew more than 50,000 spectators, it announces the category winners.
Allan Uy of Toyota Quezon Avenue is named the Super Sporting Class champ of the third season. He wins a Toyota Vios car as prize. Estefano Rivera ends the season with 103 points, thus earning him the first-runner up position in the class and P200,000 check as prize. Basti Escalante makes it to the podium as second runner-up (90 points) and receives P100,000 as prize. Dominic Ochoa is fourth overall for concluding the season with 83 points, while Daniel Miranda is only one point shy away from Ochoa and lands on fifth place.
Toyota San Fernando's Steve Bicknell grabs the Sporting Class champion title with 112 points, earning him a P150,000 check. Gerard Loy earns 108.5 points throughout the season, giving him the first runner-up position and a P100,000 check.
The Promotional Class has Kiko Dysico as its champion for ending the season with 109 points. Marc Martinez lands on the podium as first runner-up for 98.5 points, while Aira Medrano is named second runner-up for 98 points.
The Celebrity Class champion title was a tight battle between Jinno Rufino and Fabio Ide. In the end, Jinno emerged as champ, Fabio as first runner-up, and Jericho Rosales as second runner-up.
"It has been a rough but fruitful journey this season," Allan Uy said in a statement. "Being part of the Vios Cup ever since it started two years ago has been a humbling experience. Going through tough struggles made me stronger and rewarded me with nothing but the best this year." At the awarding ceremony, Allan expressed his gratitude to Toyota Motor Philippines and his fellow racers for the 2016 season.
Who's excited for next season?
Vios Cup 2016 winners
Super Sporting class
Place
Name
Points
Champion
Allan Uy
111
First runner-up
Estefano Rivera
103
Second runner-up
Basti Escalante
90
Sporting class
Champion
Steve Bicknell
112
First runner-up
Gerard Loy
108.5
Second runner-up
Miko Maristela
105
Promotional class
Champion
Kiko Dysico
109
First runner-up
Marc Martinez
98.5
Second runner-up
Aira Medrano
98
Celebrity class
Champion
Jinno Rufino
111
First runner-up
Fabio Ide
Second runner-up
Jericho Rosales