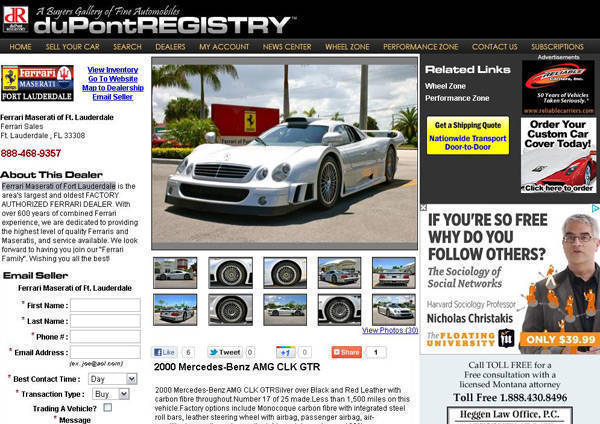 The 17th unit of only 25 Mercedes-Benz CLK GTR produced is up for sale. With less than 1,500 miles (or 2,400 kilometers) on it, its asking price of $1.49 million (roughly P63.585 million) can be considered a bargain.
Mercedes-Benz first entered the CLK GTR to compete in the FIA GT Championship series in 1997 to go up against the then-all-conquering McLaren F1 GTR. However, to participate in the series, Mercedes-Benz had to produce 25 road cars that were based on the CLK GTR, which then brings us to the 17th of those units produced as the one you see here based on the posting on duPontRegistry.com.
Other than noting that the car has factory-installed options like a carbon-fiber monocoque with integrated steel rool bars, leather steering wheel, airbags, air conditioning system, audio systems and adjustable pedals, the only other information duPontRegistry.com mentioned is that the CLK GTR is being sold through the Ferrari Maserati of Fort Lauderdale dealership.
So, if your name is Ramon Ang or if you've got $1.49 million to burn, we suggest you buy this car as its value can only increase. That, and the fact that you'll probably be the only one in the Philippines to own such a car.
Continue reading below ↓
Recommended Videos