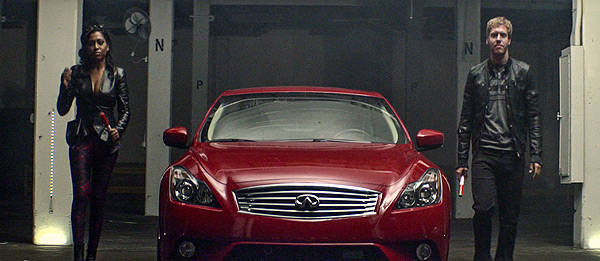 After starring last May in a martial arts short film titled Drive of the Dragon with Hong Kong-based actress Celina Jade, double Formula 1 world champion Sebastian Vettel is now in a music video with two-time Grammy-award winning R&B artist Melanie Fiona.
In the music video for the single 'Watch Me Work' from Fiona's latest album, The MF Life, the Red Bull Racing driver and Infiniti Global Ambassador drives the music artist around downtown New York in a red Infiniti G37 convertible as they look for a location for Fiona and her band to perform in. After finding an enormous warehouse space and powering up the lights and the sound system, Vettel's character departs the scene and drives off into the sunrise.
"It was a great experience to shoot a music video, and certainly very different from what I'm used to," said Vettel. "But music is without question an inspiration to many, and I'm very proud to have been part of this. I think the lyrics are quite fitting to what we can all do if we put our mind to it."
Like the martial-arts short film, the music video is the latest in the 'Infiniti Inspired Performers' series that sees Red Bull Racing drivers Sebastian Vettel and Mark Webber collaborating with other top performers in their respective fields. Shot on location in New Jersey in June when Vettel drove the proposed New Jersey F1 Circuit, the 25 year-old German driver also took the opportunity to take Fiona on a high-speed lap of the circuit.
Continue reading below ↓
Recommended Videos
"It's not often you get the chance to be driven by an F1 world champion, and when the opportunity came up to have Seb drive me in the video, I was like, yes, please," said Fiona. "This is one of my favorite songs and one that I've been wanting to put out for a while, so to have him be involved was great."
If you're viewing this on a mobile device and can't see the video, please click here.
If you're viewing this on a mobile device and can't see the video, please click here.