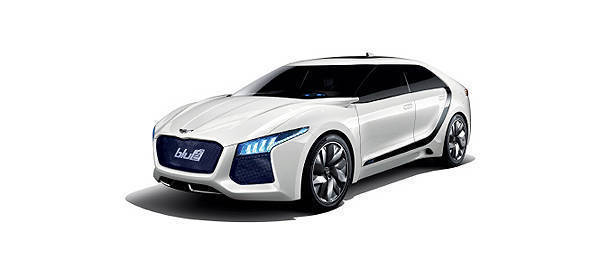 Hyundai Motor has revealed for the first time the Blue² concept car, the Korean carmaker's first hydrogen-powered fuel cell electric vehicle (FCEV) sedan, at the Seoul Motor Show.
Known internally as the HND-6, the Blue² got its name from Hyundai's "Blue Drive" sub eco-brand and the number "2" which was derived from H², the symbol for hydrogen gas. Hyundai also calls the Blue²'s exterior design language as "Intersected Flow."
Some of the innovative features in the Blue² concept are the outside LED screen panels located on both the front and rear of the car that displays the vehicle's condition and a welcome system that recognizes the driver and automatically opens the door for his or her convenience. Side cameras and a roof camera have also replaced the conventional side mirrors.
Asymmetrical design seems to be popular with today's concept cars as the Blue²'s doors and dashboard were designed as such to "optimize a driver's convenience and add emotional value." The Blue²'s cabin features a combined center cluster and fascia, which uses a Transparent Organic Light Emitting Diode monitor and ultra-light tempered glass to provide accurate and vivid graphic information while the infotainment system is operated by a Motion Sensor Moustick which is basically a haptic wheel and motion sensor that responds to the driver's touch and hand movements.
Continue reading below ↓
Recommended Videos
Powering the Blue² is a fuel cell electric system puts out the equivalent of 120hp and has a fuel economy of 34.9 kilometers per liter. The Blue² also has low-resistance tires and alloy wheels that have been designed from the start to improve the car's aerodynamic performance.