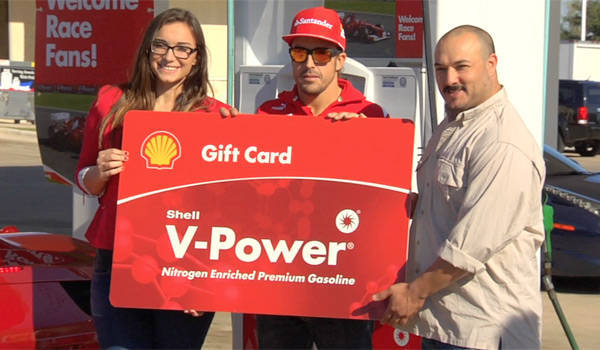 Imagine this scenario: You make a routine fuel stop at a Shell gas station to refill, and then see a Ferrari Formula 1 car parked on the property. As you go have a curious look at the race car, two-time F1 world champion Fernando Alonso approaches you and tells you that Shell is giving you a one-year supply of fuel.
Sounds too good to be true?
That's exactly what happened to Pedro Solis last weekend in Austin, Texas.
"I was just pulling up to fill up my car with Shell, and the next thing I know, I'm getting a year's worth of Shell V-Power from Fernando Alonso," exclaimed Solis. "I am still in shock. What a day!"
"It's always fun to take part in an event like this leading up to a big race," said Alonso, who took part in the marketing gimmick to promote the return of Formula 1 on American soil. "We also got a chance to talk about how similar F1 fuel is to the Shell V-Power that they will get to fill their car with for free for the next year."
Some guys have all the luck (and all the petrol).
If you're viewing this on a mobile device and can't see the video, please click here.
Continue reading below ↓
Recommended Videos