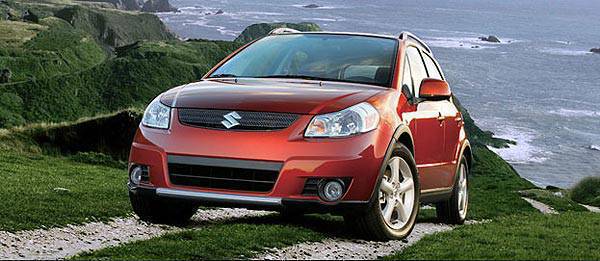 This is turning out to be the year of hatchbacks as Suzuki Philippines, Inc. has launched the SX4 Crossover, its contender in the hatchback segment, along with the upgraded version of its sedan sibling, now called the SX4 Aero.
"We wanted to bring over the hatchback right after we launched the sedan in 2008," said Arvie Fugoso, assistant manager of Suzuki Philippines' automobile marketing department, to TopGear.com.ph. "But we knew Suzuki was going to release an upgrade to the SX4 soon, so we held off until the upgrades reached both the sedan and hatchback before we brought them both in."
The SX4 Crossover boasts a very sporty exterior with its honeycomb-type grille, fender arches, roof rails, halogen foglamps, and 16-inch alloy wheels. Its 175mm ground clearance also lets it tackle obstacles its sedan sibling can't.
Despite its hatchback design, plenty of space is available in the SX4 Crossover's cargo area, which can accommodate 253 liters of cargo with the rear seats up and 992 liters with the seats folded down. A luggage area cover also shields your precious cargo from prying eyes, and, thanks to the high-mounted seats, a passenger-seat undertray is available for keeping miscellaneous items as well.
Not to be left behind, SX4 Aero has also been given a sportier profile courtesy of the color-keyed aero body kit (comprised of a boot-mounted spoiler with integrated third brake light, and the front and side skirts), a more aggressive grille, halogen foglamps, and new 10-spoke, 17-inch alloy wheels.
Since the SX4 Crossover and the SX4 Aero are practically the same vehicle under different sheet metals, the Crossover receives as standard the much-needed upgrades the Aero sedan gets.
First, a new M16A engine resides under the hood of both vehicles. Thanks to variable valve-timing technology, the SX4 now has 110hp and 150Nm of torque on tap. This is then mated to a four-speed gate-type automatic transmission.
Second, a new instruments cluster gives out even more vital information, like fuel consumption and fuel range. The audio system now has an eight-speaker setup composed of four door-mounted speakers and four door-mounted tweeters, and also boasts an auxiliary port for MP3 players. Helping the driver control the system are audio controls mounted on the leather-wrapped steering wheel.
On the safety front, the SX4 takes advantage of Suzuki's Total Effective Control Technology to help keep occupants safe with its highly rigid body. The SX4 also has dual airbags and ABS, while the front ventilated discs brakes are now complemented with rear solid discs brakes.
The SX4 Crossover is available at P899,000 in either sunlight copper metallic, super black pearl, or star silver metallic, while the SX4 Aero can be had at P890,000 in either snow white pearl, star silver metallic or super black pearl.