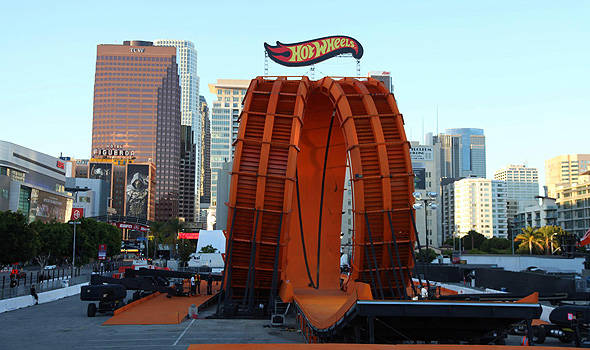 At the 2012 X Games, which will be held this weekend in Los Angeles, Team Hot Wheels drivers Tanner Foust and Greg Tracy will attempt to tackle the world's largest double loop measuring 60ft in diameter, calling it the "Double Loop Dare."
Unlike the double loop-the-loop that was successfully completed recently by the Top Gear Live stunt team--achieved with one car doing two loops in succession--Team Hot Wheels' stunt will have two cars on separate tracks, which will merge into one wide track at the top of the loop.
If successful, this will be Foust's second world record-setting stunt for Team Hot Wheels. At the 2011 staging of the Indianapolis 500, Foust jumped a specially modified pickup 332ft through the air to set a world record for the longest jump in a four-wheel vehicle.
If you're viewing this on a mobile device and can't see the video, please click here.
ADVERTISEMENT - CONTINUE READING BELOW ↓
ADVERTISEMENT - CONTINUE READING BELOW ↓
Recommended Videos