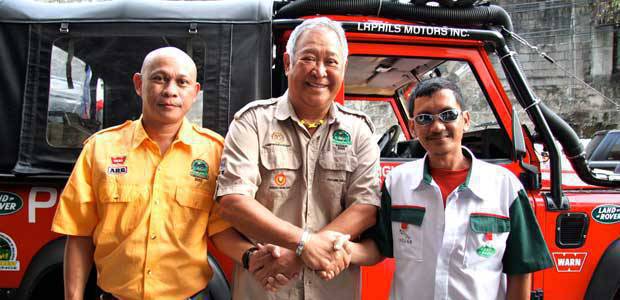 Team Philippines Land Rover is ready to take on the Sanya International Off-road 4x4 Challenge in Hainan, China to prove the ingenuity and skills of Filipinos in international motorsports.
Driver Larry Mendiola and co-driver Sergio Jamila will take on the jungles of Hainan with a 1997 Land Rover Defender 90 from LRPhils Motors, the exclusive distributor of Land Rover vehicles in the Philippines. Both men have joined off-road competitions for the country, with Mendiola ranking 6th and 5th in the Rainforest Challenge of Malaysia (RFC) in 2005 and 2006, respectively. Jamila, on the other hand, is the country's most seasoned off-road competitor with three years of RFCs under his belt.
"We believe that our customized Defender 90, paired with the talent and determination of both Larry and Sergio, makes us a very strong contender to finish at the top," LRPhils Motors executive director Marc Soong said.
Team Philippines' Land Rover Defender 90 is known for its capability as the ultimate off-roading machine with a full-time four-wheel drive and a locking center differential that provides traction while driving on ice, snow, ground or mud.
The Defender is powered by a 2.4-liter common-rail diesel engine with a six-speed manual transmission. The powerplant promises 360Nm of torque.
Off-roading is the best international motorsport where Filipinos are able to capitalize on inherent Pinoy traits to succeed, Team Land Rover Philippines consultant and coordinator Robby Consunji said. Consunji is also the off-road editor of
Top Gear Philippines
magazine.
Consunji said the Filipino's nature to come up with ways to repair things and to be adaptable to harsh conditions allow for survival while travelling in deep jungles packed with obstacle courses. Even the Pinoy's nature to be hospitable and helpful works to the team's advantage as it earned the group the Team Spirit Award in 2005 for helping teams from other countries throughout the competition.
"It's time we look at what the Pinoy's skills are. The skill is already there. Add the technology and we'll do excellent," Consunji said.
Team Land Rover Philippines will be off to China for a five-day competition starting September 19. Want to wish the Philippine team the best of luck? Feel free to leave your message on the comment box below.
In photo above: Team Land Rover Philippines drivers Sergio Jamila (left) and Larry Mendiola flank LRPhils chairman and president Wellington C. Soong with the Land Rover Defender 90 in the background.
Continue reading below ↓
Recommended Videos