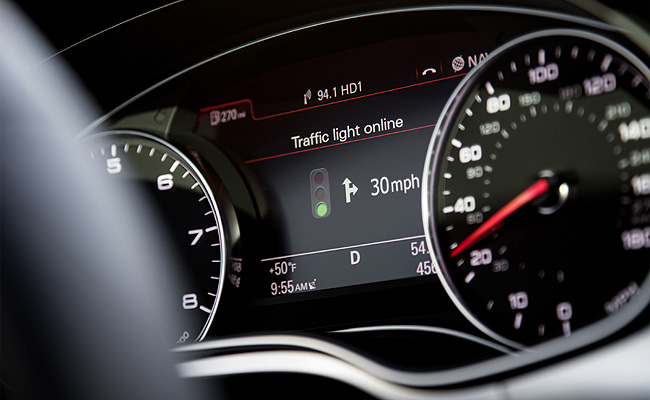 Audi has been developing a system that seeks to improve a driver's daily commute by integrating with a city's traffic light network, "which could make driving through towns and cities far more fluid and free of annoying and economy-denting red-light punctuation."
Audi's online traffic light information technology utilizes an in-car Internet network to establish a link between the vehicle and the traffic light network of a city or town's central traffic computer. Once it's connected to the traffic light network and the vehicle is in the vicinity of a set of traffic lights, the driver information system located in the central instrument cluster shows the driver the speed needed to pass through the light during a green phase.
If the driver is already waiting at a red light, the system will calculate and count down the time remaining until the next green light is scheduled to appear via a timer on the display. Furthermore, the system also interacts with the car's start/stop function to ensure that the engine is switched on five seconds before the light turns green.
According to Audi, its online traffic light interaction "has the potential to reduce carbon-dioxide emissions by up to 15% and could save approximately 900 million liters of fuel."
Continue reading below ↓
Recommended Videos
The German carmaker added that the system in ready to go into production "and could be fitted onto every Audi model in the range subject to the necessary government legislation."