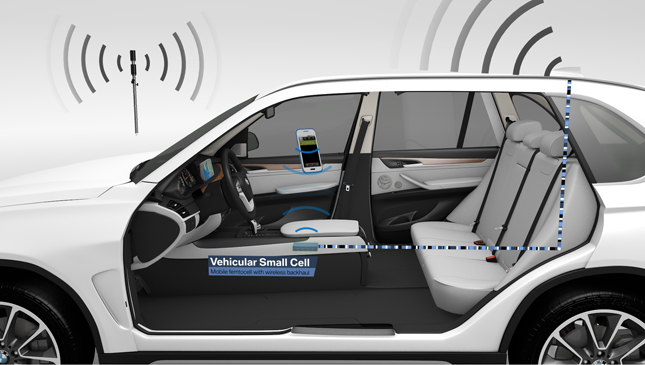 It's another weeknight stuck in gridlock. The traffic enforcers are nowhere to be found. The light ahead of you is green, but some idiotic buses have blocked your way because they entered the box junction (if they even know what this is) even though the street across is full. And you haven't moved in 20 minutes.
The only thing barely keeping you sane is the distraction offered by your smartphone. You monitor Waze for possible alternate routes, listen to Spotify, and maybe take a peek at Instagram when your car isn't moving. Then your cellular data starts getting spotty: Waze digitally shrugs its shoulders, Spotify sputters, and the picture of online managing editor Tracy Carpena won't load on Top Gear Philippines' Instagram. The latter is the last straw, and your irritation grows because you're spending a lot for that unlimited data option.
If BMW had its way, weak cellular signals will be a thing of the past. At the Mobile World Congress this month, BMW, Peiker Acustic and Nash Technologies will present the "Vehicular Small Cell" research project--basically a femtocell for cars.
A femtocell is a very small mobile phone base station, usually used to provide better indoor cellular connectivity in small businesses and private homes. It's like a cellular signal booster. What BMW and its partners are basically doing is install a femtocell unit inside the vehicle. Using the car's antenna, the Vehicular Small Cell will provide optimal cellular access for the car occupants. At the same time, this will counteract the reception problems that occur when the cellular signals interact with the metal car body.
Continue reading below ↓
Recommended Videos
Once set up, the Vehicular Small Cell will automatically create a wireless connection between all mobile devices inside the car. This results in better phone calls and improved data connections.
According to Dr. Peter Fertl, project manager at BMW Group: "The Vehicular Small Cell will allow our customers to enjoy uninterrupted in-car usage of all mobile devices such as smartphones, tablets, smartwatches and other connected devices of the future--even when driving through areas with poor cellular coverage."
That sounds like a promising premise, but we still prefer that government--both national and local--get its act together to solve our traffic problem. Then we won't need in-car cellular signal so desperately.