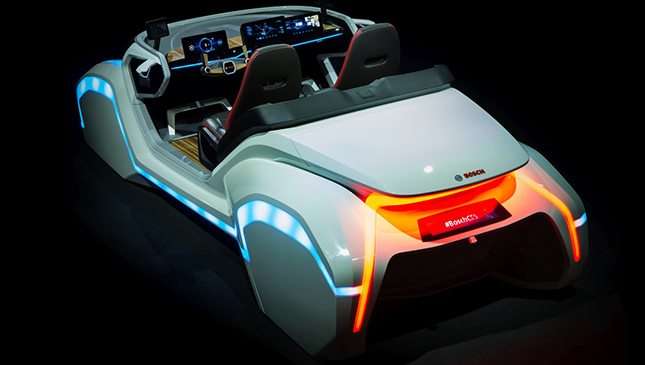 Over recent years, it's become more and more apparent that connectivity will be one of the driving factors in future transportation. But could the day arrive when we're so connected to our cars that we begin considering them personal assistants? Bosch certainly thinks so, and in fact, the company's already preparing for it.
The global engineering and electronics giant is currently at the 2017 Consumer Electronics Show (CES) in Las Vegas to showcase a new concept car which, in the words of company board member Dr. Werner Struth, "will play a central role in cross-domain communication." He added that Bosch is already working on unifying both mobility and smart services, saying: "If the car is connected to the smart home or the smart city via the cloud, there will be measurable benefits. Connectivity is turning the car into an assistant on four wheels."
Continue reading below ↓
Recommended Videos
As soon as the driver takes his seat, the car uses facial recognition to adjust the steering wheel, mirrors, interior temperature, and radio stations to the driver's preferences. No more fiddling around and scooching about to get comfortable. We like this car already.
The whole system is controlled via haptic touch and high-tech gesture control. What's more, it allows passengers to set up video conferences, plan their schedules, and entertain themselves all with the help of cloud-based services and connectivity.
But the most applicable feature—at least in the Philippines—has to be the concept's ability to forecast parking situations and create real-time maps via the cloud. Bosch is already working with Mercedes-Benz to make this a reality. The two companies are currently testing the community-based parking concept in Stuttgart.
The company says that by 2025, automated driving will save motorists up to 100 hours per year. We're wondering what other neat connectivity-based features Bosch will come up with. Any chance we can have our future car pick up the laundry or reserve movie tickets?