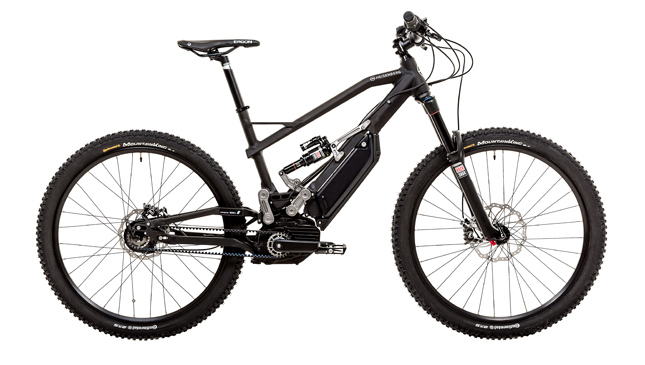 Beyond the driving experience that makes even a trip to the grocery store a pleasurable treat, BMW has been making a name in the area of innovative design. Its i series--namely, the i3 and i8 electric vehicles--have been taking the lead when it comes to showing the world what the car of tomorrow might be like. Now it has patented its tech and used them on something that might seem unexpected from a performance-car brand: an electric bicycle.
The HNF Heisenberg XF1 is a bike with an electric drive unit swing arm, and it's a collaboration between the Munich-based carmaker, HNF and the BMW Research and Technology division. The BMW-designed drive unit swing arm has now been made available for series production on electric bikes like the Heisenberg XF1. While the concept sounds a bit geeky at first, it is actually quite simple.
Unlike the traditional electric bike, which uses a chain tensioner to transfer power from the drive unit (located on the main frame) to the drive wheel, the BMW unit is free-floating. This eliminates the need for the aforementioned costly chain tensioners, instead replacing them with the more durable carbon belt. At the same time, it is combined with a full rear suspension for better overall performance. In layman's terms, the mid-mounted motor, gears and suspension are integrated into one neat package.
Continue reading below ↓
Recommended Videos
One cool thing about this electric drive unit swing arm is that it doesn't stiffen up the pedals when the electric motor is in use. Even with the electric motor helping you up a hill or getting up to speed, you can use a bit of pedal power while still maintaining a high level of grip and excellent handling (this is a BMW design after all). Plus, you can pedal smoothly on uneven surfaces as well.
The Heisenberg XF1 will be made available to order, complete with a logo proudly stating that this is a "Concept by BMW i." Ultimate Riding Machine, anyone?