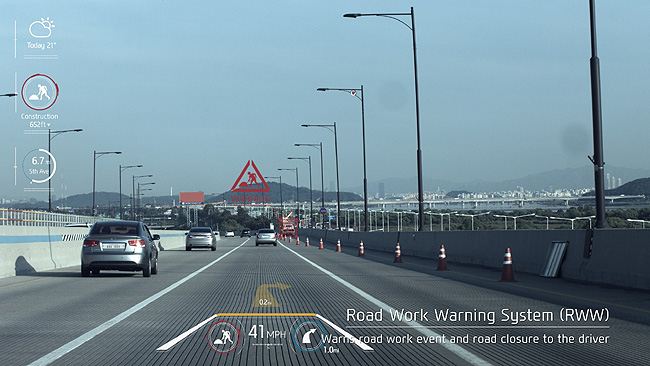 At the ongoing 2015 Consumer Electronics Show in Las Vegas, Hyundai is giving us a glimpse of the kind of technologies its cars will be equipped with in the near future.
From displaying only the vehicle speed on the standard head-up display, the production-ready augmented-reality HUD that Hyundai has created will present even more information to the driver through the use of animation. These include warnings when another vehicle is about to enter your lane, as well as one-way street markings and arrows leading to exit ramps.
Hyundai also took the augmented-reality HUD technology to the next level by linking it to a wearable band that will vibrate when the car's lane departure warning system is activated or when another car is about to unexpectedly enter one's lane. It's also a heart rate monitor that can notify 911 if it detects a rapid change in the driver's heart rate.
The Korean carmaker is also developing a 3D hand gesture recognition system that is able to recognize driver commands and frees him/her "from the distractions associated with finding buttons and switches." According to Hyundai, the system works through advanced infrared and camera sensors that track the driver's hand gestures as shortcuts. This intuitive gesture interface supposedly provides the driver with controls "while keeping their eyes safely on the road."
Continue reading below ↓
Recommended Videos
Other technologies that Hyundai is putting on display at CES--and which it claims as having "a high probability of being production-ready in the near future"--are remote auto parking, which will make all parking maneuvers automated; connectivity among vehicles, infrastructure and devices; and driving aids like distance/speed controls and automatic speed adjustment.
Which of the aforementioned technologies would you like to see in a Hyundai car soon?