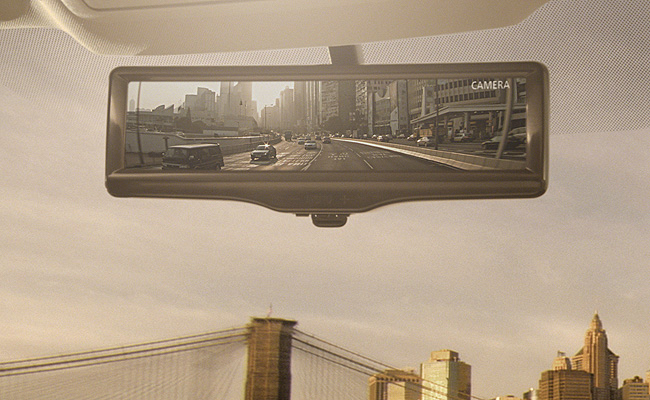 Nissan will unveil at the 2014 New York Auto Show its Smart Rearview Mirror, which is reportedly the "world's first LCD monitor that helps provide clear rearward visibility unimpeded by traditional obstacles such as cargo, tall passengers, inclement weather or the design of a vehicle."
The Smart Rearview Mirror works through a newly developed, high-resolution, narrow-angle camera that's mounted behind the vehicle and transmits the video to an LCD monitor built into the traditional rear-view mirror, providing the driver with "a clear, unobstructed view of the rear flanks, circumventing traditional rear-view obstructions such as the vehicle's C-pillars." A switch at the bottom of the mirror lets the driver alternate between the traditional rear-view mirror and the Smart Rearview Mirror.
According to Nissan, the Smart Rearview Mirror can provide a clear image in a variety of environmental conditions like rain, snow, dawn and dusk. In addition, the Japanese carmaker claims that the high-quality camera and the image-processing system in the LCD monitor consistently produce a clear image "with minimal glare, even during sunrise or sunset conditions, or when the vehicle is being followed by a vehicle with strong headlights."
"Smart Rearview Mirror will give our customers the best possible view no matter how tall the passengers in the backseat or how bad the road conditions," said Nissan executive vice president and chief planning officer Andy Palmer. "It also offers the possibility of new and exciting designs for our upcoming models, ensuring that appearance no longer has to be compromised for visibility and functionality. We'll have the flexibility to create new shapes and to further improve aerodynamics for better driving dynamics and fuel efficiency."
Continue reading below ↓
Recommended Videos
Nissan will introduce the Smart Rearview Mirror in its home market of Japan later this year before rolling it out to the global market "over the next few years."