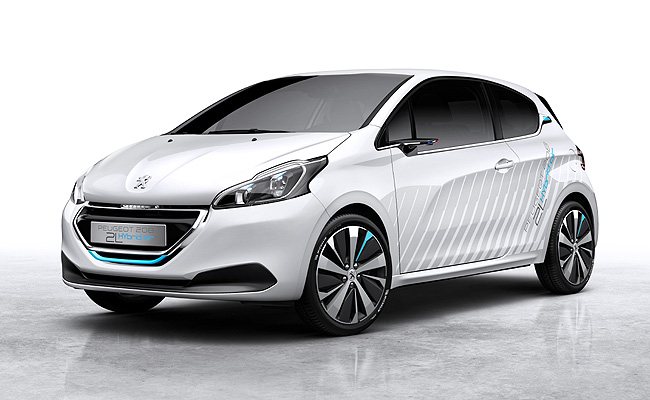 For the 2014 Paris Motor Show in October, Peugeot will unveil a hybrid demonstrator that's powered by gasoline and compressed air, "continuing its proactive approach to lowering fuel consumption and emissions."
Known as the 208 HYbrid Air 2L Demonstrator, the vehicle's 82hp 1.2-liter gasoline engine is used for traveling at a steady pace on main roads and highways. With its compressed air technology, the system is used to assist and even replace the gasoline engine for starts and accelerations, and it can even run the car by itself. In Combined mode, both the gasoline and compressed-air systems are designed to be used for urban environments, with power drawn from both systems in proportions that are adjusted to achieve optimal fuel consumption.
According to the French carmaker, the compressed-air tank used by the 208 HYbrid Air 2L Demonstrator is recharged when the vehicle slows down either through braking or when the foot is taken off the pedal, or through the energy developed by the three-cylinder petrol engine to compress the air. Both methods can reportedly achieve maximum pressure in just 10 seconds.
Aiding in the 208 HYbrid Air 2L Demonstrator's exemplary fuel economy is the use of carbon composites for the body panels, sides, doors and roof, to reduce unsprung weight. The car has also been fine-tuned aerodynamically--with a number of improvements to reduce drag--to go with the lower on-road stance.
Continue reading below ↓
Recommended Videos