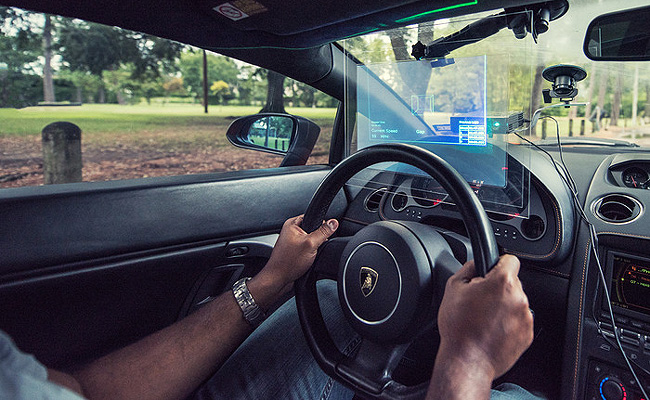 In racing video games, you're often given the opportunity to race against yourself via the use of a ghost car, which is essentially a simulation of your previous lap. In real life, however, the only way you know how well you're doing is if you check your lap times on certain sectors of the racetrack.
Well, one guy has created an augmented reality system where you can now drive against a ghost car in real life "for real-time feedback and coaching." The system is called GhostDash and is actually a Kickstarter.com project by High Rise Garage.
GhostDash works by utilizing a sizable head-up display mounted right above the steering column, and displaying not just the ghost car but also your speed, your lap time and the gap between your car and the ghost car.
Developed in over a year, the first GhostDash prototype was completed in May 2014. After receiving feedback on the system, High Rise Garage believes that the final version is now ready for production.
For this to happen, however, High Rise Garage needs to raise $43,500 by November 20. Right now, it has only raised $2,110 from 10 different backers.
So, if you think a system like GhostDash can help train you during track days, you can pledge from at least $10 and have the developer's gratitude for your contribution, to over $9,000 and "get five GhostDash starter kits for your race team at a special Kickstarter price."
Continue reading below ↓
Recommended Videos
If High Rise Garage gets the funding it needs to produce GhostDash before November 20, it hopes to begin manufacturing the system by January 2015 and commence delivery of the devices to customers by April 2015.
Check out the GhostDash at work in the video below.
If you're viewing this on a mobile device and can't see the video, please click here.