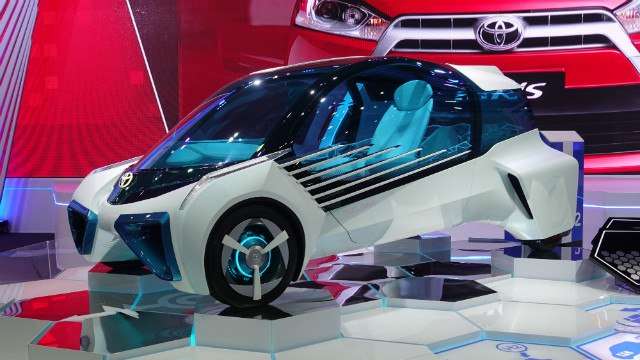 Motor shows are more than just about seeing the latest cars up close, and hoping that you'll see them in dealerships soon. They also give us a chance to see what's possible in the not-so-near future, usually in the form of concept cars that take some time before going into production. In Toyota's case, its concept envisions a future that runs on hydrogen energy.
Meet the FCV Plus, showcased at the 2017 Bangkok International Motor Show. Given the show's theme of 'Reach to the planet of technology,' it's an apt showcase piece for Toyota. The car itself isn't exactly new; we first saw it back at the 2015 Tokyo Motor Show. But the fact that it's still in concept form means that the tech behind it is still being perfected. Like we mentioned, it runs on hydrogen fuel cells.
At 3,800mm long and 1,540mm high, it has enough seats for four people. The exterior has a sleek shape straight out of science fiction, while Toyota boasts that the interior was quite spacious. It was cool to see it spinning about on stage, the seats folding back and forth. The driver's seat and steering wheel even folded down and inwards, just like Christian Bale's Batmobile.
Continue reading below ↓
Recommended Videos
If you ask us though, it looks like a car straight out of Tron, which is pretty awesome. Who wants to see this in production within the next decade?
Photos were taken using a Sony RX100 Mark V