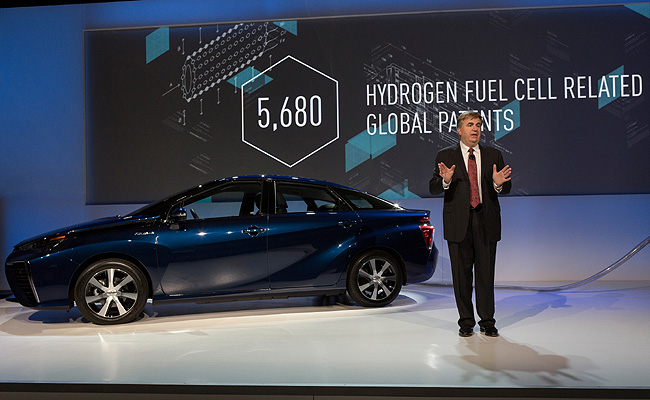 In a move that mirrors what electric carmaker Tesla did for its electric vehicle technology, Toyota has announced that it is opening up globally its fuel-cell vehicle patents--which reportedly number around 5,680--as part of its efforts "to popularize fuel-cell vehicles."
According to the Japanese carmaker, it is allowing the royalty-free use of its fuel-cell vehicle patents not only to manufacturers of such vehicles, but also to "those installing and operating hydrogen stations" until 2020.
"At Toyota, we believe that when good ideas are shared, great things can happen," said Toyota Motor Sales USA senior vice president of automotive operations Bob Carter. "The first-generation hydrogen fuel-cell vehicles, launched between 2015 and 2020, will be critical, requiring a concerted effort and unconventional collaboration between automakers, government regulators, academia and energy providers. By eliminating traditional corporate boundaries, we can speed the development of new technologies and move into the future of mobility more quickly, effectively and economically."
Carter made the announcement at the 2015 Consumer Electronics Show, which opened its doors on January 6 in Las Vegas, Nevada.
Continue reading below ↓
Recommended Videos