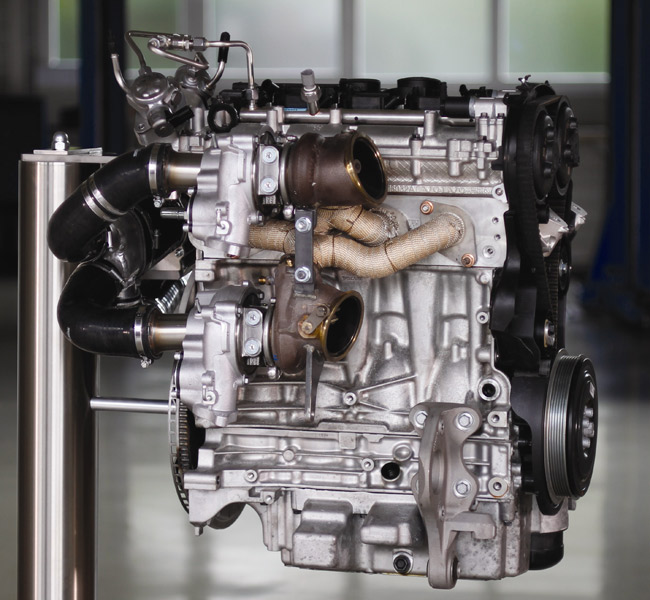 Whether you like it or not, turbocharging is the way to go. Tighter emissions standards and the pressure (no pun intended) to improve fuel economy have made carmakers turn to forced induction.
Swedish carmaker Volvo has embraced turbocharging in a big way by unveiling an engine concept with three turbos. Yep, three. Volvo calls it the High Performance Drive-E Powertrain Concept. It's a 2.0-liter, four-cylinder mill that puts out an astonishing 450hp, which translates to 225hp per liter.
When the High Performance Drive-E goes into mass production, it will produce the highest horsepower output per liter of almost any engine currently available. For comparison's sake, the special-edition Mitsubishi Lancer Evolution X FQ-440MR, released to commemorate the Japanese carmaker's 40th anniversary in the UK, has its 2.0-liter engine boosted to 440hp. Close, but no cigar.
Volvo's Drive-E reaches 450hp by using two parallel turbochargers. There is a third electrically powered turbo, but this doesn't feed air to the cylinders. Instead, it spools up the two other turbochargers. This triple-boost setup--combined with a dual fuel pump working at 250 bar pressure--enables driving without any turbo lag.
This radical four-cylinder engine is expected to be available in the new XC90 SUV. We hope local distributor Viking Cars will offer this engine variant in the future. It's a technological tour de force.
Continue reading below ↓
Recommended Videos