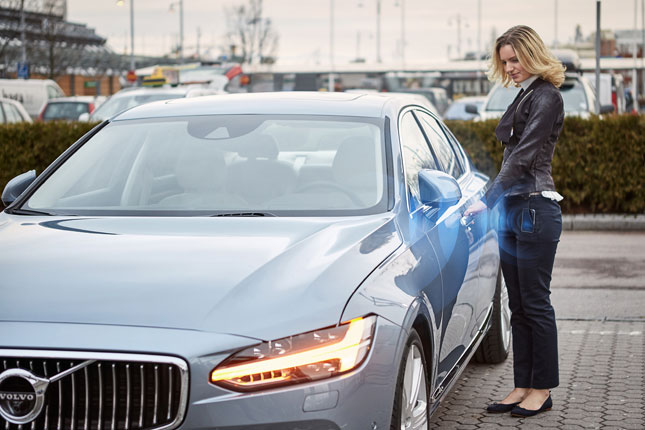 You know how men hang their car keys from their belts? Well, guys who will buy a Volvo a few years from now might not be able to do that anymore. By 2017, the Swedish carmaker plans to become the world's first manufacturer to offer vehicles without physical keys.
Volvo customers will be given an option to download an app on their smartphones. This will replace the physical key with a digital key utilizing Bluetooth technology. The Volvo app will allow the owner to lock and unlock doors, open the trunk or the hatch, and start the engine. This setup will also allow customers to have more than one digital key, letting them access other Volvos in different locations.
The implication for car rentals is also significant. Once a client receives the digital key, all he has to do is locate the specific Volvo via GPS, then unlock it and drive off. No more lining up in airports or car rental offices.
Owners can also share digital keys with family and friends--convenient for those instances when other people need to borrow the car immediately.
"At Volvo, we are not interested in technology for the sake of technology," said Henrik Green, Volvo Cars vice president of product strategy and vehicle line management. "New technology has to make our customers' lives easier and save them time. Mobility needs are evolving and so are our customers' expectation to access cars in an uncomplicated way. Our innovative digital key technology has the potential to completely change how a Volvo can be accessed and shared. Instead of sitting idle in a parking lot the entire day, cars could be used more often and efficiently by whoever the owner wishes."
Continue reading below ↓
Recommended Videos
In a culture where men like to hang their keys on their bodies--both for security and personal attachment--the notion of actively sharing cars and not having traditional keys might be difficult to accept. Don't worry: Volvo will still offer physical keys to those who want them.
But for those who are open-minded to new innovations, this is a fascinating feature. We wonder who will opt for digital keys when Volvo Philippines offers it in our market?