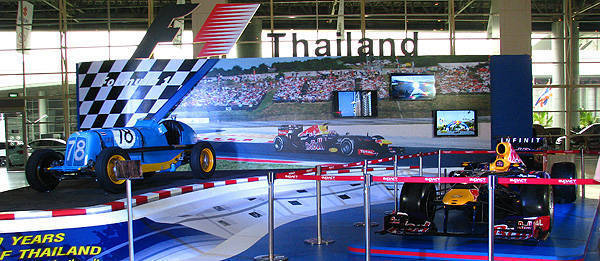 Thailand has a new goal in its sights as the ASEAN region's top car market, and that's to stage a first-ever Formula 1 race in two years' time.
The news was revealed by Grand Prix International president Prachin Eamlumnow at the 34th Bangkok International Motor Show, which is organized by his company.
Though the plan to stage the F1 race is still waiting for the Thailand parliament's approval, nearly all the details and conditions have reportedly been ironed out, Eamlumnow added--from F1 commercial rights holder Bernie Ecclestone's fee to where the race would be held.
While Eamlumnow declined to state how much Ecclestone's fee is, he did reveal that the Thai government would partly shoulder the cost to run the race. And since the plan is to stage it as a nighttime street circuit around Bangkok--just like the Singaporean Grand Prix--the organizers of the Thai F1 race will instead lease the equipment from Singapore F1 organizers to reduce its expenditure.
ADVERTISEMENT - CONTINUE READING BELOW ↓
To hold the Thailand Grand Prix, Ecclestone has reportedly told the organizers that one European race has to be bumped off the calendar. To address this, the race could be held in alternate years as F1 drivers are supposedly not keen on adding another race to their already busy calendar. For the 2013 season alone, for example, 19 races are scheduled. By comparison, the F1 calendar only had 16 races 10 years ago.
ADVERTISEMENT - CONTINUE READING BELOW ↓
Recommended Videos