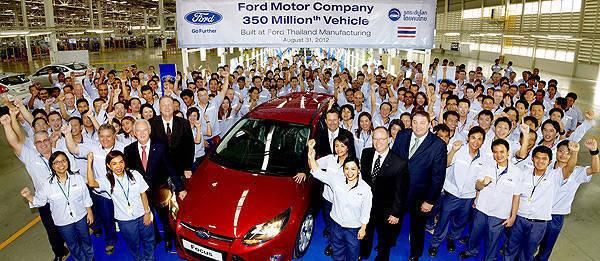 August 31, 2012, marks a milestone for Ford after the American carmaker rolled out its 350 millionth vehicle, a Focus, manufactured at its Rayong, Thailand, plant.
"Producing 350 million vehicles is equivalent to producing one vehicle every 10 seconds throughout our 109-year history," said John Fleming, Ford executive vice president of global manufacturing. "If placed end to end, the vehicles would stretch to the moon and back--twice. Producing this vehicle in Thailand is also significant. It underscores the power of our One Ford plan to deliver profitable growth with great products built in ultra-flexible and efficient facilities everywhere around the world."
Besides the manufacturing milestone, Ford is also celebrating the Focus's achievement for being the best-selling single-car nameplate in the world for the first six months of 2012. According to IHS Automotive, an independent company that monitors the world's automotive markets, the Focus sold 489,616 units in the first half of this year, with the nearest competitor, the Toyota Corolla, selling 462,187 units.
"Embracing its performance, value, versatility and fuel economy, the Focus is attracting many new customers to the Ford brand for the very first time, particularly in Asia where we are growing every day," said Jim Farley, Ford's group vice president for global marketing, sales and service. "The Focus is a winner on so many levels because it successfully provides customers with what they want most--a safe, smart, fuel-efficient, good-looking, fun-to-drive, affordable car."
Continue reading below ↓
Recommended Videos
In case you're wondering if there's a possibility that you might get to own the milestone Focus, the only way this would be possible is if it's shipped to a port at the northernmost part of Luzon and gets converted to left-hand drive since it's a right-hand-drive model.