For July, Top Gear Philippines pays homage to the real men of the world by releasing its first-ever Macho Issue. On the cover is the most popular car at the moment, the testosterone-fueled Toyota 86. You may have read a lot of articles and watched a lot of videos about this car, but there's nothing like a rabid Botchi Santos being let loose behind its wheel on an empty lot.
The main highlights of the issue include:
* The new Hyundai Genesis Coupe;
* A manly road trip with the new Mercedes-Benz GLK-Class;
* The unexpected Lamborghini Urus;
* The macho Carroll Shelby;
* The SRT (formerly Dodge) Viper;
* The new Subaru Impreza;
* The new Honda Pilot;
* The Big Test: Ford Mustang versus Chrysler 300C;
* Plus, Ramon Bautista's new column: 'Basta Driver, Sweet Lover'.
So, grab your copy of this very virile issue at your favorite magazine store. Still at P150.
ADVERTISEMENT - CONTINUE READING BELOW ↓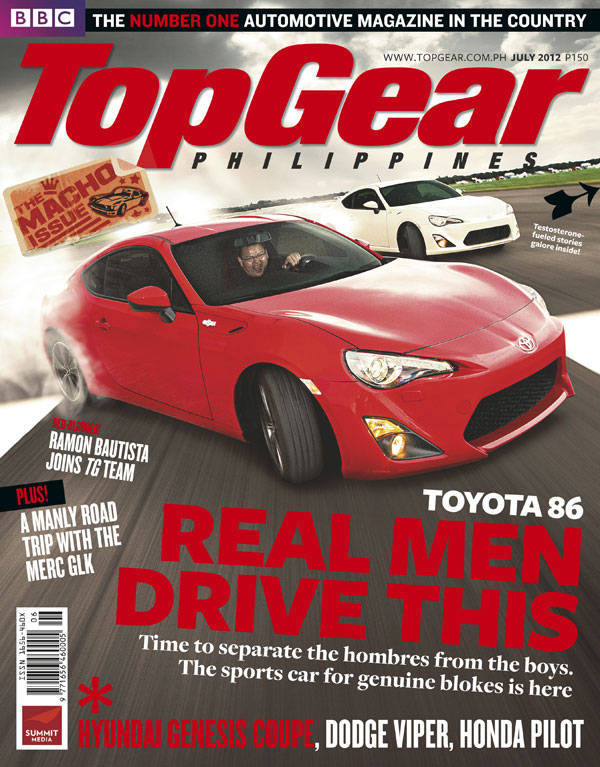 ADVERTISEMENT - CONTINUE READING BELOW ↓
Recommended Videos