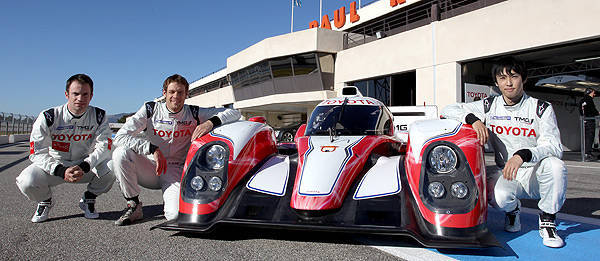 Toyota failed to capture the overall race winner's trophy in its previous Le Mans efforts in 1998 and 1999 with its GT-One race cars. That, however, hasn't deterred the Japanese carmaker from making another run at the famed 24 Hours of Le Mans by showing off its entry for this year's event, 13 years after it last competed in the endurace race.
Known as the TS030 Hybrid, the car is powered by an all-new 3.4-liter normally-aspirated petrol V8 engine and a hybrid system with capacitor storage developed by official team partner Nisshinbo. This makes Toyota the first manufacturer to use a hybrid system and confirm its participation in the FIA World Endurance Championship. In addition, this further emphasizes Toyota's pioneering approach to this technology which has seen more than 3.5 million of its hybrid vehicles sold worldwide.
Toyota is currently testing the TS030 Hybrid to evaluate its merits of using a front motor system produced by Aisin AW and a rear motor system developed by Denso within the current regulations which limit hybrid systems to recovering a maximum of 500kJ between braking zones while restricting its deployment to only two wheels.
Utilizing a brand-new carbon fiber LMP1 chassis, the TS030 Hybrid was first rolled out at the Paul Ricard test track where it completed several hundred kilometers--including running the car in darkness--showing an impressive level of reliability and performance at this very early stage in the car's testing program.
Continue reading below ↓
Recommended Videos
"Of course, we would love to win Le Mans; that is the dream for all competitors in this race," said Toyota Racing team president Yoshiaki Kinoshita. "Hybrid is a core technology of Toyota so it is important to demonstrate this in a motorsport arena, and we want to prove it can bring a performance advantage, both in terms of lap time and fuel efficiency. Everyone involved in designing, developing and preparing the car--both at Toyota Motorsport GmbH and at Motor Sport Division in Japan--has worked incredibly hard to reach this point and we are all very excited to be back on the race track again."
The TS030 Hybrid will make its race debut on May 5 in the Six Hours of Spa-Francorchamps, which is the second round of the FIA World Endurance Championship, before it races in the 24 Hours of Le Mans on June 17 and 18. Toyota will be entering two TS030 Hybrids with one car to be driven by Le Mans Series driver Nicolas Lapierre and former Formula 1 drivers Alex Wurz and Kazuki Nakajima, while discussions are still ongoing to finalize the driver lineup for the other car.
Check out the on-board video of the car as it's put through its paces at Paul Ricard.
If you're viewing this on a mobile device and can't see the video, please click here.