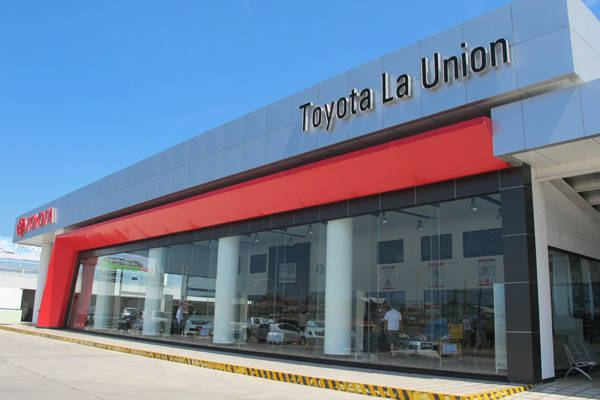 Toyota Motor Philippines brought us to one of its newest dealerships, Toyota La Union. Located on the National Highway in Barangay Disoor in Bauang, La Union, the new member of the Toyota network is owned and operated by the same group that handles Toyota Dagupan and Toyota Baguio. It formally opened in February this year.
According to Jing Atienza, TMP's first vice president of vehicle sales operations, Toyota La Union now supplants Toyota Otis as the Toyota showroom with the widest frontage, measured at 130m. Indeed, the facility looks huge from the outside, with a service reception area immediately greeting customers.
Inside, the dealership is even more massive. Kisha Roxas of TMP's marketing department noted that it felt like TMP had transplanted its Santa Rosa manufacturing facility in La Union. Indeed, we saw an expansive service area with dozens of vehicles being attended to by the dealership's technicians. Each service bay looked well-kept and boasted its own set of tools.
Toyota La Union executive vice president Rene So even showed off a special tool for removing shock absorbers--just one of the extra touches that the dealership can offer its clients. Another feature is the facility's own car-paint mixing room.
But the one feature of Toyota La Union that really stands out is its LED lighting. The dealership is mostly equipped with LED lights, ensuring that it consumes much less electrical power than it would if it used regular light bulbs. The parking area even has solar-powered lights.
Continue reading below ↓
Recommended Videos
"Our goal is to make the Toyota experience uniform and consistent throughout the country," said Atienza. "What our customers experience in our Metro Manila showrooms should be the same experience that our customers in the provinces get."
Photos by Vernon B. Sarne