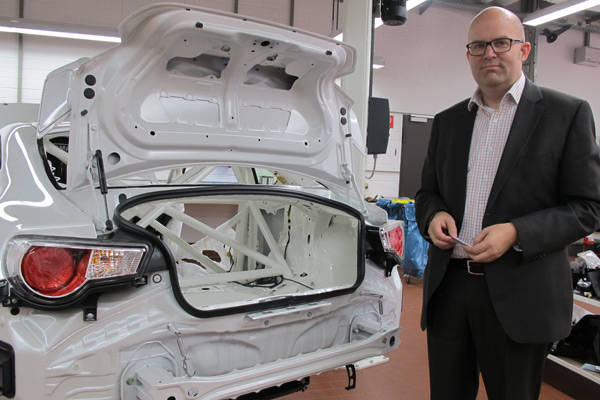 During our visit to the Toyota Motorsport GmbH headquarters in Cologne, Germany, TMG business development manager Sebastian Janssen showed us his company's latest project: a racing version of the Toyota 86, to be made available to interested customers who can afford to pay its 38,500-euro price tag (P2.06 million)--and that's before taxes and shipping costs.
Targeted mainly at wealthy racing wannabes in Europe, the TMG GT86 CS-V3 race car can also be delivered to interested buyers from any part of the globe. Janssen told us they expect to sell 20 to 50 units of this car every year.
TMG aims to provide customers with a race-ready package with this car. Modifications include the exhaust system, the suspension, the braking system, and stiffening components. The 2.0-liter, 200hp boxer engine is left untouched, proving once again that Toyota believes the 86's powerplant is already perfect.
Toyota Motor Philippines' Sherwin Chua-Lim estimates that this car could cost "some P5 million"--inclusive of taxes and shipping costs--if you order a unit in Manila. Any takers?
Photos by Vernon B. Sarne

Continue reading below ↓
Recommended Videos