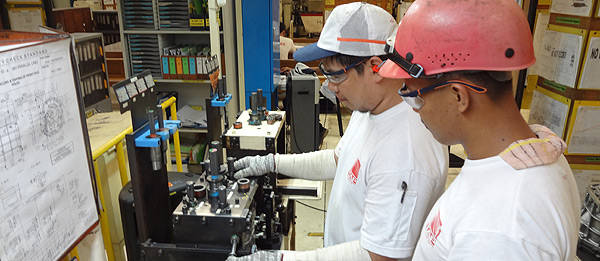 Toyota Motor Philippines (TMP) will be putting up a world-class technical school on the grounds of the Toyota Special Economic Zone in Santa Rosa, Laguna, which the Japanese carmaker hopes will "become a regional human resources development hub for global Toyota."
"Last year, we started a project with Abdul Latif Jameel Company, Toyota's authorized distributor in Saudi Arabia, to dispatch a total of 180 young Filipino technicians there, after a year and a half of intensive technical training with us," said TMP president Michinobu Sugata. "With this new technical school, we expect that we will be able to give more young Filipinos attractive job opportunities in Toyota affiliates here and abroad."
The Toyota Technical School will initially occupy one hectare of the Toyota Special Economic Zone, with the provision of expanding it to 10 hectares in the future. Some of the facilities it will have are technical lecture and practice rooms, non-technical classrooms, a library, a dormitory, a canteen, and a multipurpose hall. Once the school has opened its doors to 600 qualified students, it will offer two educational programs.
The first is a two-year general job program where successful graduates will receive "Toyota Technician" and "Pro-Technician" certificates from the Technical Education and Skills Development Authority (TESDA). The second program is a six-month advanced general job course that will cater to TMP's senior-level employees.
Continue reading below ↓
Recommended Videos
"When (TMP chairman) Dr. George Ty visited me in March this year to share with me his vision of the technical school, I was extremely honored and inspired to actively take part in making this come true," said Toyota Motor Corporation honorary chairman Shoichiro Toyoda. "TMP has proven itself as a company of competent people, epitomizing the highly driven and dedicated Filipino workers. With the technical school to be established here in the Philippines--which will be open to young and aspiring technicians--it can improve employment situation and eventually contribute to the development of the Philippines."
TMP hopes to open the Toyota Technical School in 2013.