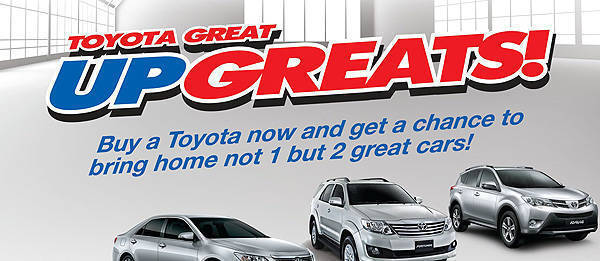 In celebration of its 11th straight Triple Crown (topping the passenger car segment, commercial vehicle segment, and overall sales), Toyota Motor Philippines is thanking its customers by giving them a chance to win four different cars when they buy a brand-new Toyota vehicle.
With TMP's "Great Upgreats" promo, Toyota buyers get the chance to win the following vehicles:
* An Altis when they buy a Vios;
* A Camry when they purchase an Altis;
* A Fortuner when they get an Innova; and
* The all-new RAV4 when they buy a Fortuner.
TMP will also extend an additional P10,000 discount when the buyers purchase a Vios, an Altis, a Camry 3.5Q, an Innova, a Hilux 4x4 or a Fortuner 4x4/4x2 Gas. On top of that, the buyers may also avail of more discounts on their Toyota favorites, with as much as P35,000 off on the Innova, P50,000 off on the Vios, and P45,000 off on the Altis.
TMP's Great Upgreats promo will run until February 28, 2013.
ADVERTISEMENT - CONTINUE READING BELOW ↓