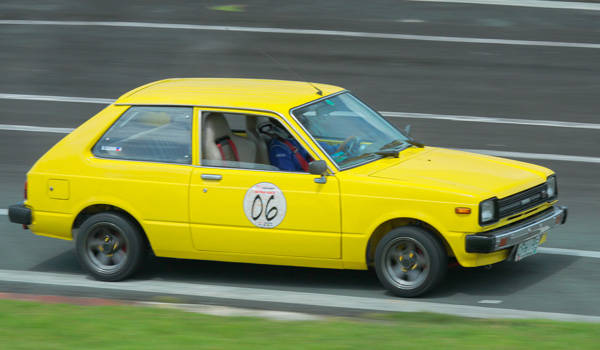 You will recall that Tuason Racing School held the very first Retro Touring Car Philippines race at the Batangas Racing Circuit in October last year. It was a resounding success: 29 old-school cars lined up on the grid for a never-before-seen (in the country, that is) nail-biter of a race that brought back memories of classic race cars gunning it around the Greenhills circuit many decades ago.
Brian Bautista in his Volkswagen Beetle won the closely contested race as he pulled away from Carlos Castañeda's Mini Cooper in the last lap of the contest, becoming the first champion of the event.
With that achievement tucked under their belt, JP Tuason and TRS want to take things up a notch this year. Looking at a larger grid and with more at stake, they recently released their draft rules for the 2013 Retro Touring Car Race.
The essence of the regulations is more or less the same, defining "retro" as carbureted cars from 1985 or older. But probably owing to an unfortunate racing incident last year involving an overturned Mini Cooper, the rules are more stringent this year with a focus on driver safety.
Highlights of the proposed changes include:
More stringent safety measures – Last year, the only requirements were a helmet and a racing suit. This year, racers will be required to have a Snell or DOT-approved helmet, a three-point harness, a fire extinguisher, a tow hook, a kill switch, a fire-retardant racing suit, and a roll cage.
Continue reading below ↓
Recommended Videos
More specific and more vehicle classes – Last year, there were three classes: (1) Old School; (2) Mini Cooper; and (3) Volkswagen. This year, the proposed classes are: (1) 1,600cc and below (Single Cam); (2) 1,600cc and below (Twin Cam); (3) 1,601 to 2500cc Class; and (4) Open Class
The format remains relatively unchanged with a P2,000 entry fee allowing you to participate in:
A 15-minute warm-up session;
A two-lap qualifying shoot-out;
A seven-lap race heat (grid positions based on qualifying shoot-out); and
A seven-lap final race heat (grid positions based on the results of the first race)
Tuason's goals for this year's race?
50 participants racing on three to four race weekends;
Two full grids of around 25 cars each; and
The possibility of sending the 2013 champion to Indonesia for a retro race in late 2013 or early 2014
The above is just a working draft of the rules; changes can still be made to it. Race dates will be finalized soon.
If you have an old-school car and you think you have the skills to race it, you may contact Tuason Racing School at info@tuasonracing.com or (0918) 929-7859.
Photo by Marlon 'Taz' Dacumos