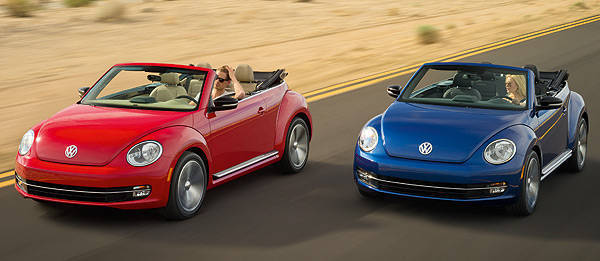 Volkswagen has revealed the convertible version of its Beetle, "marking the third generation of the curvaceous Volkswagen soft-top that offers unprecedented practicality and open-top driving fun for four."
The all-new Beetle Cabriolet sports a flatter roofline and a more upright windshield, giving it a sportier and more dynamic look and a silhouette that resembles the original Beetle Cabriolet. Thanks to the design of the car's traditional soft top, it lies flat when open, enabling good vision to the rear. It also opens and closes automatically within 10 seconds and even at speeds of up to 48kph. Included with the car is a standard soft-top cover that tucks the opened top neatly away. Completing the Beetle Cabriolet's exterior is a surrounding chrome trim that accentuates the borders between steel and fabric.
The Beetle Cabriolet's compact instrument panel has an extra large round instrument cluster and carries over several nostalgic elements like the additional glove box. Despite looking deceptively small, the Beetle Cabriolet is a full-fledged four-seater vehicle. With the split rear bench seat folded down, the car can carry up to 225L of cargo.
To provide added safety in the event of a rollover accident, Volkswagen has developed an active rollover protection system that consists of two extendable modules fitted inside the vehicle and concealed behind the rear bench seat. In the event of a rollover, the two modules would be activated by the central airbag-triggering unit. Together with the fixed A-pillars, the modules protect the occupants of all four seats within a matter of milliseconds. Another extra safety feature is the front and head-thorax-airbags that come as standard with the Beetle Cabriolet.
Continue reading below ↓
Recommended Videos
The new Beetle Convertible will be available with seven engine options. Serving as the entry-level engine is a highly efficient 1.2-liter TSI mill that produces 103hp followed by an even more fuel-efficient BlueMotion Technology version of it. Other gasoline engines are the 1.4-liter TSI and the 2.0-liter version with an output of 158hp and 197hp, respectively. For the diesel offerings, Volkswagen has its tried-and-tested 1.6-liter TDI that puts out 103hp followed by a BlueMotion Technology version of it and a 2.0-liter TDI that delivers 138hp.
The all-new Beetle Convertible will make its public debut at the Los Angeles Motor Show this November before it goes on sale later next year. Too bad we don't have Volkswagen here.