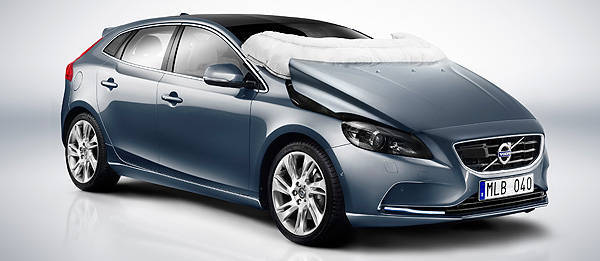 Two years after Volvo introduced its Pedestrian Detection system with full auto brake to the global market, the Swedish carmaker is now introducing another innovation that will protect pedestrians in vehicular accidents: the world's first pedestrian airbag.
According to Volvo, the most serious head injuries incurred by pedestrians when they are struck by a car are caused by the hard structure under the hood, the windscreen's lower edge and the A-pillars. It was these areas that Volvo's engineers looked at when they started developing the technology behind the pedestrian airbag.
The system works through seven sensors embedded in the front of the car, which transmit signals to a control unit. When the car comes into contact with an object, these signals change. The control unit then evaluates the signals, and if it registers what it interprets as a human leg, the pedestrian airbag is deployed.
The hood's hinges are equipped with pyrotechnic release mechanisms that, when the system is activated, pull out a pin and release the rear of the hood panel. Simultaneously, the airbag is activated and starts filling with gas. During the inflation sequence, which only takes a few milliseconds, the airbag raises the hood by 10cm and stays in the raised position.
ADVERTISEMENT - CONTINUE READING BELOW ↓
ADVERTISEMENT - CONTINUE READING BELOW ↓
Recommended Videos
The added gap between the hood and the hard components in the engine compartment provides space for the hood to deform, creating a dampening effect when it's struck by a pedestrian.
In its inflated position, the airbag covers the entire windscreen wiper recess, around one-third of the windscreen and the lower part of the A-pillars.
Volvo claims that the system is active between 20kph and 50kph, and that 75 percent of all accidents involving pedestrians reportedly take place at up to 40kph.