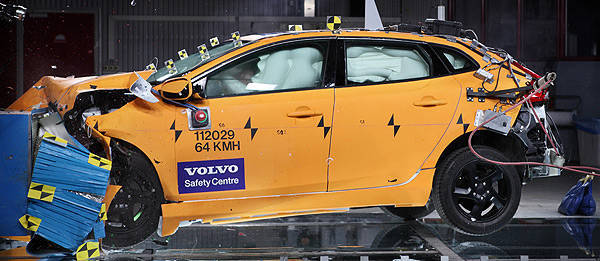 In the latest Euro NCAP collision test, Volvo's all-new V40 not only received the top rating of five stars, but its overall result is the best-ever recorded by the institute.
"A fantastic result," said Thomas Broberg, senior technical safety advisor at Volvo Car Corporation. "We are very proud to have one of the world's safest cars and we're taking yet another important step toward our 2020 target--that nobody should die or be seriously injured in a new Volvo."
As of 2009, Euro NCAP has presented an overall rating for each car model it tests. The separate tests are carried out in four different sub-categories (adult occupant protection, child protection, pedestrian protection, and safety assist), which are then ranked to produce an overall grade.
For the adult occupant protection category, the V40 scored the best-ever result at 98 percent. The V40 also set a new record for the pedestrian protection category at 88 percent, with the unique and innovative pedestrian airbag playing an important factor in the score. For the safety assist category, the V40 scored the maximum points of 100 percent, thanks to it being packed with Volvo's numerous active safety systems such as auto brake, pedestrian detection, lane keeping aid, and blind spot information system. Of the four categories, the lowest score Volvo received was 75 percent for the child protection category.
Continue reading below ↓
Recommended Videos
"We work continuously on improving the already high safety level of our cars through ongoing research into the reasons behind road accidents and by gaining in-depth understanding of the results of actual collisions," Broberg added.