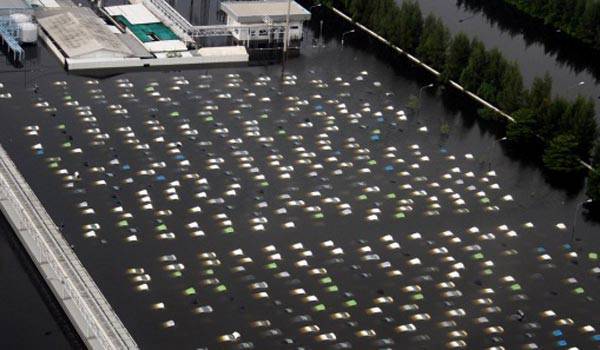 As you know, among all the car companies that have a manufacturing facility in Thailand, Honda has been the most affected by the recent flooding there. Its assembly plant in Ayutthaya has been submerged in water. When we posted a photo of Honda's inundated facility on our Facebook page, several people expressed concern over one particular scenario: Will Honda still sell its flooded cars as brand-new units after drying and repairing them?
"When the flood subsides, these cars will be back to the assembly line to replace (their) damaged parts. Will (they) be delivered here in the Philippines...as fresh/brand-new units?" wondered Amiel Fuentes.
"Next year, they will sell their flooded units in the Philippines coming from Port Irene," said Petchoy Morales III. "Please be careful when purchasing a CR-V or a Civic."
"I wonder if they will fix these cars and sell them," added Johnny Lee.
At least one person, however, defended Honda. "These submerged units are now the property of Honda Thailand's insurance provider," declared Emil Sanchez. "Honda has never and will never repair flooded units and pass them off as brand-new cars."
But what about the carmaker itself? Any official statement regarding the issue?
Yes, in fact, there is. We asked Voltaire Gonzales, Honda Cars Philippines' head of vehicle sales and corporate communications, and this is what he had to say to Honda customers in the country: "If Honda recalls cars because of a mere switch that could malfunction, for the sake of quality and safety, what more for flood-damaged units? I am absolutely confident to say that it is totally remote for Honda to even think of selling a flooded car as a brand-new unit. Our customers shouldn't worry."
Continue reading below ↓
Recommended Videos
Well, there you have it, folks.
Photo from The CarGurus Blog