I always advise friends who ask me what car to get: "Buy the biggest one you can afford." Young, starting families need to look several years ahead and ask if the compact they're planning to get will suffice. Self-employed folks need to balance the needs of family use with hauling their stuff around. For this consideration, I appreciate the usual sexy stuff like the power numbers and modcons, but I put high value on the maximum space in the car.
In my life, cargo volume follows the Parkinson Principle: "Work expands to fill the time allotted for it." In this case, the things you will put in a car will eventually come to a point that it is filled to overflowing.
Of course, if space were the only consideration, I'd be driving around in an Isuzu Elf or a Mitsubishi L300FB. But since I, like many other people, also like to drive around in reasonable comfort and style, I've made a short list of some of my favorite, user-friendly vehicles.
Incidentally, I chose to use the English measurement system for cargo volume (cubic feet) rather than metric (liters). Aside from the strange and somewhat annoying omission of the spec in perhaps 90% of all local brochures and websites (I had to ask for the figures from each manufacturer's PR departments or consult Google), I find the use of "liters" to be a poor representation of a vehicle's cargo volume for the simple fact that my default image of liters is, well, fluids. I've never filled up my trunk with water, but I nearly always put crates and boxes in there. Therefore, I decided to go with cubic feet. It's just a lot easier to visualize, don't you think? Plus, it eliminates the need for a standardized "test object" like beer cases or balikbayan boxes.
Continue reading below ↓
Recommended Videos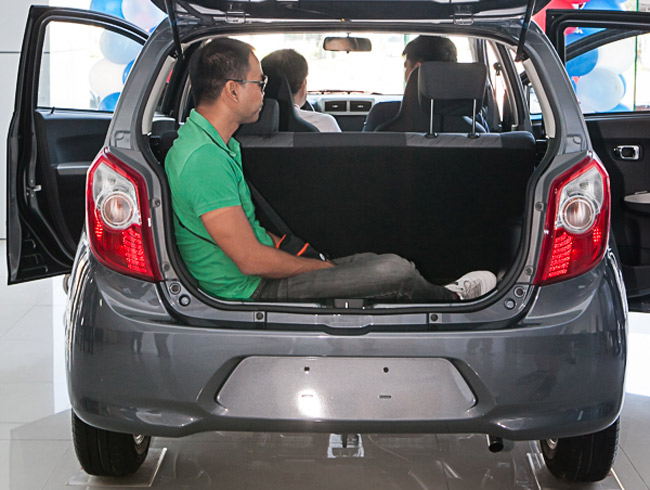 Micro car: Toyota Wigo
The old adage "You get what you pay for" applies to mini cars like the Wigo: pokey engines, cheap plastics, and that perception of Coke-can sheet metal. Yet the little Toyota (by way of Daihatsu) does its best to make up for these with a decent level of kit for not a lot of money. You can fit real people in the backseat, but fold it down and you get an impressive 14.9 cubic feet of usable space.
Subcompact sedan: Hyundai Accent
Over in the B-segment, the Accent has a trunk nearly as big as its big brother Elantra's, with 13.7 cubic feet. Its hatchback sibling has more space with 21.2 cubic feet behind the rear seats, and 47.5 cubic feet with the seats down. Still, the hatchback can't match the "magic seats" of the Honda Jazz. The downward sloping trunklid of the Accent looks a bit off in profile, but that big butt can take a lot of junk.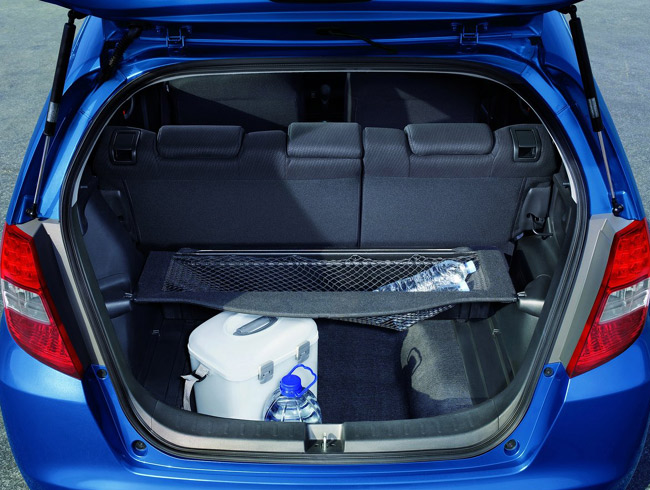 Subcompact hatchback: Honda Jazz
It's getting pricey at nearly P900,000, but no other car in its class has the ability to (internally) transform from small family car to rolling balikbayan box. Those "magic" utility, long and tall (ULT) seats are worth their weight in gold, enabling one to haul anything from potted plants and boxes upon boxes while still retaining a small footprint. Legend has it that, at one point, a Jazz owned by a mountain-biker was able to fit four bikes inside plus their riders. I have yet to try that stunt, which must be like one of those circus tricks where a dozen clowns pile out of a Beetle. We have a 2006 Jazz in the family and still love the lil' critter to pieces.
Compact sedan: Hyundai Elantra
Pending a proper test drive of the Sylphy and a test for just how "boxy" the trunk really is, my vote must go to the Elantra for now. More than a year ago, I wrote how happy I was with the car that I'd bought. I liked the looks and the drivetrain, and didn't like the suspension that much. But the clincher was the trunk space. The trunk beat my old standard for the class--the Corolla's (13 cubic feet)--such that I've been able to fit a medium-size cooler, small suitcases, and even a pair of road bike wheels without having to crush anything.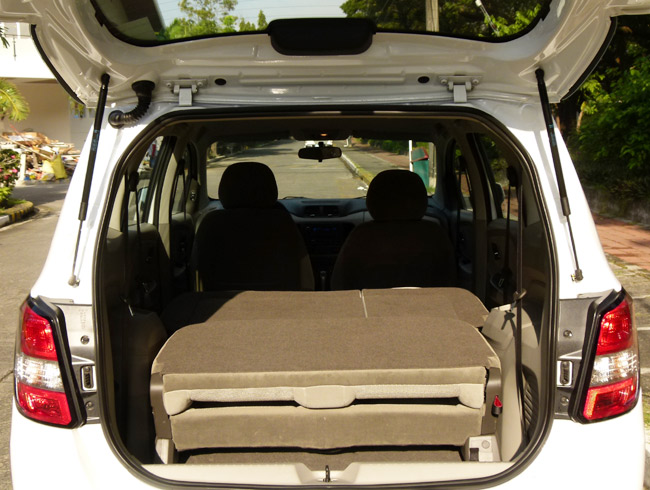 Mini MPV: Chevrolet Spin
It honestly doesn't look like much with its bland face and slab sides, but I fell in love with this rolling balikbayan box when I tried out the different seat layouts and asked for the specs. The second row split-folds 60/40 and can be tumbled forward, while the third-row seat can be folded and tumbled forward. With all the seats up, there's still 5.72 cubic feet in the back. Fold the third row and you get 30.5 cubic feet, but fold all the seats and you get 56.79 cubic feet. Actually, you could get a little more if you like to DIY and just unbolt the third-row seat.
By comparison, the Toyota Avanza only has 28.3 cubic feet with the third row folded. Plus, the Spin can be had with a diesel.
MPV/AUV: Toyota Innova
It's comfortable, comes in diesel or gas, and has many variants to match your budget and needs. The Innova is a default choice among buyers who need a do-it-all family vehicle. And what it lacks in gee-whiz features, it makes up for in space: up to 63.6 cubic feet (and that's even using basic, fold-to-the-side third-row seats). It's the most "modern" in its class, so it has a good balance of style and utility.
Compact SUV: Subaru Forester and Mazda CX-5
It's almost as bland as a Honda CR-V, but in my book the Forester has the edge in driving dynamics over the Honda while offering positively cavernous room for a small SUV. "Active lifestyle" people will love how the Forester just swallows up their gear with a 74.7-cubic-foot cargo area. A close second is the Mazda CX-5, which is honestly a lot more fun to look at and to drive. At 34.1 cubic feet of space with the seats up and 65 cubic feet with the seats down, the Mazda should be able to handle most hauling chores.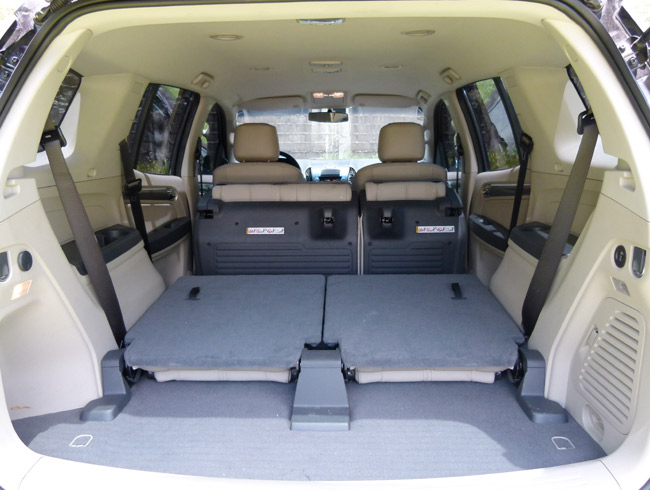 Midsize SUV: Chevrolet Trailblazer
I like the honest, workmanlike appeal of the Trailblazer. The chunky styling isn't for everyone, and the cockpit instrumentation is a little tacky for my taste, but when it's time to haul, this Chevy hauls. Fold the third row down and you get 44 cubic feet of space. Keep that seat back up and you still get 11.4 cubic feet, plus a decent seating position that won't make mutinous passengers. In max cargo mode, the floor is a bit odd as the edge of the second-row seatback forms a ledge rather than touching the tumbled-up seat bottoms. Plus, the folded-down third-row seatback protrudes from the floor, creating a "step" in the cargo floor. Still, total cargo volume is a whopping 76.77 cubic feet. And whatever you're hauling, the Trailblazer has one of the burliest powerplants in existence.
By comparison, the Mitsubishi Montero Sport--not a cramped SUV by any measure--has a maximum capacity of 64 cubic feet with the seats tumbled and folded down.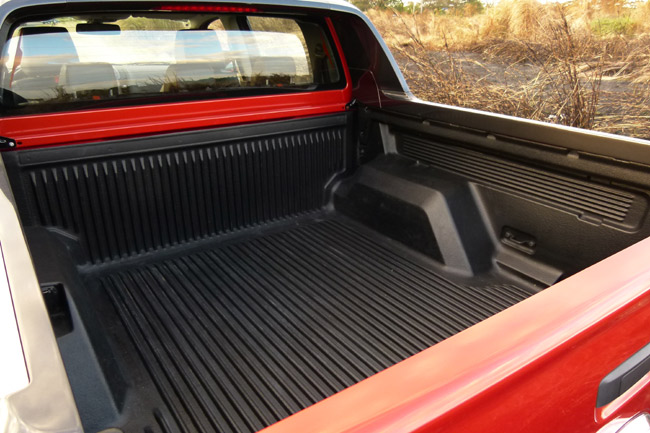 Pickup truck: Ford Ranger and Mazda BT-50
The Ranger is like the F-150 of the late '90s: It's big and handsome, only this time it doesn't guzzle gas. Like its mechanical cousin, the Mazda BT-50, the Ranger puts its size to good use with a modern cabin that's reasonably spacious, and a bed that can easily swallow most of your goods. Pickup beds have virtually unlimited space because of their open-air design, but within its walls the Ranger/BT-50 holds 42.87 cubic feet. More important, the long bed and high walls enable you to carry a lot of belongings without having to exert too much loading creativity.
Full-size SUV: Chevrolet Suburban
There are many reasons the Suburban is the choice of the Secret Service: enough room to fit eight, fully armed bodyguards; enough space at the back for machine guns and RPGs; a robust chassis; and a powerful drivetrain even in stock form. Probably the most famous and desirable Suburban is the one featured in The Fast And The Furious and White House Down: Yes, the one with the Dillon 7.62mm minigun that pops out of the roof to rain hellfire down on miscreants.
For civilian use, nothing beats the big Chevy's capacity: 45.8 cubic feet behind the third row, 90 cubic feet with the third row removed, or a positively ginormous 147.8 cubic feet with all seats folded down. Its closest competitor--the extended-wheelbase Ford Expedition--only has 42.6 behind the third row, 85.5 with the third row down, and 130.8 cubic feet behind the first row. Whether transporting bikes, appliances, or crates of ammo, this is as close as you can get to having your own land-bound C-130.
(Note: Specs are for the 2014 Suburban. The all-new 2015 model has yet to arrive in the Philippines.)
Vehicle


Cargo volume
(seats up/trunk/bed)
Cargo volume
(third row down)
Cargo volume
(all seats folded)
Toyota Wigo
--
--
14.9
Hyundai Accent (4-door)
13.7
--
--
Honda Jazz
20.6
--
57.3
Hyundai Elantra
14.8
--
--
Chevrolet Spin
5.72
30.5
56.79
Toyota Innova
10.6
31.8
63.6
Mazda CX-5
34.1
--
65
Subaru Forester
34.4
--
74.7
Chevrolet Trailblazer
11.4
44
76.77
Ford Ranger/Mazda BT-50
42.87
--
--
Chevrolet Suburban
45.8
90
137.4
*All figures are in cubic feet