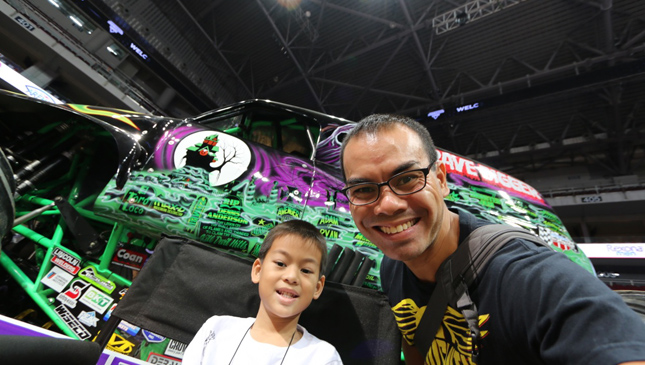 I want to thank Monster Jam for being a part of Father's Day weekend. In fact, I want to thank them for helping make me a god in my son's eyes the past few weeks. As all parents will know, school (at least the elementary grades) opened recently. This is a very stressful period. You're stressing over work, stressing over traffic, and stressing over kids' homework and hoping he makes some new friends in class. Hell, just waking him up and getting him ready for the school bus is enough to rattle one's nerves before coffee.
The past two weeks, I spent an average of less than three hours a day bonding with my two kids. It was getting to a point where I was beginning to hate my clients, which is not something I wanted to dwell on since I needed them to help me pay the bills. So I made it a point to clear my calendar the other Saturday for Jurassic World, which as every kid knows is just about the most awesome dino movie in, what, 20 years? My kid couldn't stop talking about Indominus rex for a week, never mind a plot that borrowed liberally from How To Train Your Dragon 2.
Continue reading below ↓
Recommended Videos
Then Monster Jam came to town. Yes, the venue was "a little small." But to my five-year-old's eyes, it was more than enough. In fact, when we came up close to the trucks and their drivers at the Pit Party, they seemed larger than life. When your world revolves around school, friends, family and toys--when your dreams are made up of Transformers, Ben 10, Gipsy Danger and various toy cars duking it out in some insane, sugar-powered fantasy world--the chance to actually come up close to Grave Digger, to touch a tire as tall as a man, and to (wow!) get your shirt autographed by some cool dude your dad couldn't tell from Adam on a busy street...it's priceless.
And let me tell you as a father, a car nut and an armchair engineer, the show itself was a minor feat of engineering. Thank you for not crushing me or my son in an epic fail, because those 1,500hp trucks clearly had the power and the traction to climb all the way up to the bleachers if they wanted to. Thank you for sending the crowd into a tizzy when the motocross riders did their crazy backflip-superman-tabletop shtick in such a "small venue" without needing a hearse in attendance. One mistake and they could have decapitated themselves landing into the exit tunnel. I mean, really, how do they sit down with balls that big? The fact that the drivers and the riders were able to put on a show without anyone getting hurt speaks of superb truck control and bike-handling skills.
Thank you for taking the trouble to fly all the way over here in car-crazy Philippines with its 1.3 million Top Gear followers, to give us the best damn circus any five-year-old at heart could ever wish for. Who would have thought that you could cover up the Mall of Asia Arena with wood flooring, then cover it all up with soil so you could make a respectable arena for your four-wheeled dinosaurs? I would hate to be the guy who has to sweep up all the dirt afterward.
Most of all, thank you for exceeding my expectations. I'm 38 years old with two kids and too much work on my shoulders. Every day I'm fighting off my dad bod, and it's not every day I can take my Max to get up close and personal with a team of pros who look like they genuinely love what they're doing, and don't mind spending a few hours of their time to mingle with fans. I bet you're all parents, too.
In this era of fuel-consciousness and eco-this and eco-that, there is something gratifyingly, orgasmically primal about a four-ton behemoth that can crush an Eon in a blink of an eye, but reach out to the kid in all of us in a heartbeat. It's the same kind of release I get when I'm beating the shit out of myself at the gym--just 100 times more awesome. I haven't gotten this hoarse since Aerosmith came to town. The crowd erupted in a massive rebel yell the moment all the trucks revved up their flat-crank engines for the opening parade lap. HELL YEAH!!! I regret not bringing a Stars and Stripes flag, even though I don't have a drop of 'Murican blood in me.
I really hope you guys made enough money to make your trip from the US worth all the trouble, because I'm already looking forward to the sequel. And yeah, let's look for some place bigger next time, like nearly all sequels do. If the telecom giants can spend a bazillion bucks to bring in a star like Beyonce, they can't be so dumb as to pass up the chance for a "Name-of-Your-Company-Here Monster Jam" next year.
Photos by Andy Leuterio