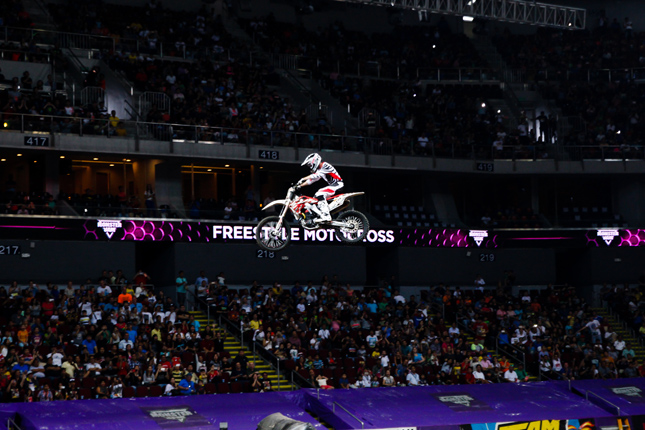 During the recent Monster Jam show, we were aware that there were other attractions other than the big trucks. We vaguely remember seeing motorbikes in the event posters.
Still, during the Monster Jam intermission, we didn't know what was going to happen when the organizers wheeled a large ramp and landing pad out. We watched in fascination as the stunt began to take shape. A rider flew off the ramp, landed awkwardly, and fell on his side. It wasn't a bad fall, and his companions checked on him. He seemed okay.
Maybe it was part of the script.
Then the magic began to happen. The other riders began flying off the ramp and landing smoothly, with nary a wobble. Then they began to get more daring. The riders were dismounting in midair, putting their feet in front, leaping while on top of their bikes, and--in what was one of the biggest crowd-pleasers of the whole show--doing backflips.
A woman in front of us began to look away, the way we get the urge to avert our eyes from high-wire circus acts. But for most of us, the fascination overwhelmed any other instinct. It was one of those times where you put away your camera and just witness the spectacle with your own eyes.
Continue reading below ↓
Recommended Videos
Words really can't do justice to this wonderful segment of Monster Jam. We'll let the photos do the talking.
Photos by Mark Jesalva