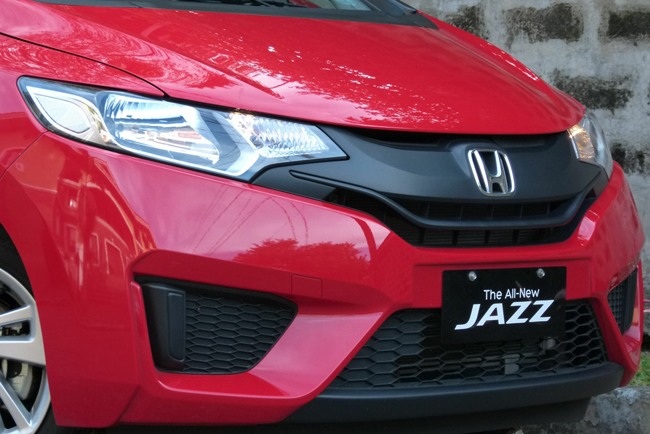 My apologies to all the Honda haters (you can skip reading already) and everyone else who didn't get my weird title, but I'm still on a Big Hero 6 hangover. Movies are a major pastime for me, and it's a bit of a surprise that I actually missed Interstellar this time when I'd consistently seen every major blockbuster within the first few days of opening.
Anyway, if you saw the movie, then you already know that the real star of the film was Baymax, that big, inflatable, robotic "healthcare provider" who serves as both bodyguard and nurse to the genius adolescent hero whose name is, ah, Hiro.
Baymax--portrayed as a huggable, all-white form like your personal Goodyear blimp or a Japanese Bibendum--was so damn ingratiating that by the end of the movie I wanted to go and buy a big Baymax pillow if there was such a thing.
Seeing the movie helped put into focus my real appreciation of the third-generation Honda Jazz. You see, I had already driven the test car several weeks prior, but had held off on my verdict as I somehow couldn't put my finger yet on what I liked so much about it. It wasn't exactly the styling, which has lost a bit of flair compared to the second generation, and lacks the sophistication of its four-door sibling, the City. It wasn't the raw performance from the 1.5-liter/CVT drivetrain, which is adequate for the class, but never gets your juices going like the Ford Fiesta EcoBoost.
Continue reading below ↓
Recommended Videos
And for sure it's not the price, which has had many erstwhile buyers raising their eyebrows and wondering how a B-segment hatchback could possibly cost nearly a million bucks with all the trimmings.
Thing is, I have always loved the Jazz. I loved the first generation so much that, after testing it, I convinced my mother to buy herself one. She got a 1.3-liter model in "Mentos Pink" and won't let go of it (not that I'm particularly enthusiastic about borrowing a pink car anyway). That Jazz is still running strong and has less than 25,000km on the odometer, as it's mainly a grocery car that goes on rare out-of-town trips.
With the second generation, Honda made it a little bigger, gave it racier sheet metal, and basically made it so good that its successor would have had to be substantially better to convince buyers to trade in their old Jazz for the new model.
Here is where Honda may have worked itself into a corner, because the new car is not so spectacularly better that current Jazz owners will feel the urge to trade in right away. In fact, driving the new car versus our first-generation Jazz, and then learning about the pricing, convinced my mother to hold on to her car for a few more years.
Instead, Honda is better off marketing its car to first-time Jazz owners. What they have is a classic case of the "little car that could," because despite its relatively small footprint, the Jazz's interior volume rivals that of several CUVs.
These Ultra/ULT/Magic seats were a revelation in the industry years ago, and they are still the benchmark for configurable seats. Pull a latch and the 60:40 split seat collapses to form a flat load floor. With both seats folded, I was able to fit my bike (upright) with the front wheel removed, a 60L cooler, a 50L box, and several bags for a weekend trip, while still having enough room to recline the front seatback. I can't even do that in our Sportage, let alone store the bike upright. So the famous Jazz interior volume is retained. Urban legend has it that a Jazz owner once fitted four (yes, four) mountain bikes inside this Honda model with three people. They might have looked like those circus clowns coming out of a Beetle, but I suspect it could be done if you really tried.
For numbers geeks, according to data from US News Best Cars, the new Jazz is rated at 16.6 cubic feet with the seats up, and a whopping 52.7 with the rear seats down. It's actually less than its predecessor's 20.6/53.7 cubic feet measurement, owing to some rearranging of the seats to yield more legroom. True enough, the backseat has compact car-level legroom and headroom, making it more comfortable for adults on long drives. Even with the reduced cargo space, you can still fit a lot of stuff in this car.
Compared again to the previous generation, the interior has a more upscale look and feel, with discreet use of the hard plastics masked by artful placement of soft touch panels, gloss-black center stack, and slivers of satin silver. The steering wheel has a fat rim that you'll love to grip, complemented by the stubby pistol grip shifter that just follows the natural curvature of your palm. Everyone always likes the view out, especially as Honda continues the tradition of a low cowl, big windows everywhere, and even uses glass quarter panels at the A-pillars to reduce the blind spot.
As expected, driving the Jazz is a pleasantly relaxing experience, with a responsive throttle, firm brakes and a suspension that's neither too soft nor too harsh for our dreadful road conditions. With the Eco coaching mode on to dampen throttle response, further smoothen the CVT and reduce the load on the A/C compressor, I easily averaged 12.5km/L without even trying hard. What's immediately noticeable is the quieter, smoother ride compared to its predecessor, perhaps owing to its 65-series Bridgestone Turanzas (the VX with the 55-series tires might have a slightly harsher ride, though).
The engine is happiest cruising along at the 100-120kph range, emitting a pleasant growl with little of the annoying drone that plagued the first-generation CVT model. In traffic, the drivetrain is quick to accelerate while being much smoother than a torque converter or twin clutch system. The electric power steering is better than ever. It's still not brilliantly telepathic like the Fiesta's, but it's getting there with just enough assist and a modest amount of road feel. For those bemoaning the lack of a cheaper 1.3-liter variant, Honda would prefer that you check out the smaller Brio.
The 1.5 V I tested lacked the extra goodies like smartphone mirroring, touch-panel controls for the A/C, and some other odds and ends, but it will likely make the most sense for buyers looking to get the best Jazz for the buck.
Standard safety items include driver and front-passenger airbags, and ABS. At P808,000, it's neither cheap nor too dear to go up against bigger cars. Side and curtain airbags, stability control, and even an Emergency Stop Signal light go on the pricier VX and VX+ variants, with additional premium items like a rearview camera and a Smart Key. These are great things to have, but if you're willing to go for a leaner Jazz, then the V should be just right.
In the week that I had the Jazz, I also used it for all sorts of errands ranging from going to meetings and hitting the supermarket, to picking up my son from school. It has that "just right" sizing to make its presence felt on the road to discourage most road bullies, yet small enough to make parking a breeze even without the benefit of a rearview camera. As for the styling, I have to admit I felt a little put off by the somewhat bland exterior compared to the racy lines of the second generation, but it grew on me over time. Those creases down the flanks and on the side mirrors seem to have an aerodynamic benefit in cutting down wind noise, and the mild, manga-esque styling should still look good several years down the road.
Finally, for a small car it never feels inadequate. You can drive up to a hotel to have it valet-parked, and not wish (too much) that you had a pricier car to show off. You can go on a road trip with your buddies and have enough space for your gear unless you're going surfing. When I had the car, I never felt the urge to leave it and hop into my compact car or SUV.
By the end of the test period, I was sorry to let the Jazz go and, yeah, I just had to give it a hug. I believe my mother also gave hers one, too. They just have a way of connecting with their owners.
Photos by Andy Leuterio