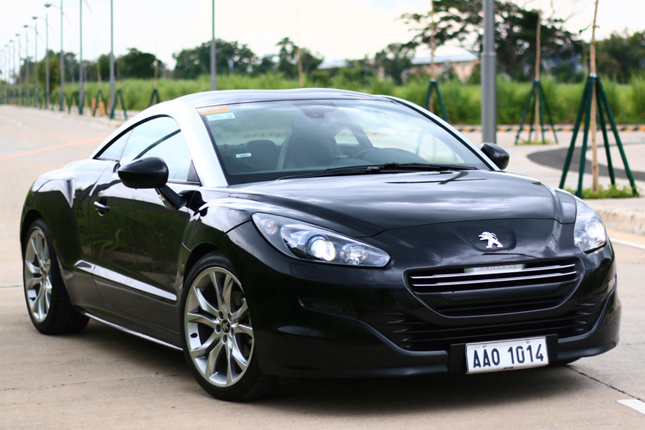 This is one of the most beautiful cars you will see on our roads today. Four wheels, two doors, four seats, and a body so bodaciously sensual that I quickly forgave the fact that its heart is meant more for stylish cruising than any real, athletic-probing of its limits.
Yes, its four-cylinder engine will inspire no one except, perhaps, those who have had to make do with less for most of their lives. Well, actually, a three-cylinder Ford Fiesta EcoBoost is lighter and faster and can show its tailpipes to the Peugeot in a drag race, but that's not the point. And the Peugeot owner will not care any more than someone flying to Paris to shop will care that the average Juan can do the same at any of our malls for far less cost.
The Peugeot RCZ is about style first and foremost, and boy does it ever with a sculpted, Bauhaus-inspired body that evokes the Audi R8 and TT, but adds particular Gallic flair for an aura all its own. I'm even reminded of the '90s-era Mazda MX-6, one of the prettiest coupes to not grace our shores. As jaded as I am when it comes to cars, I couldn't help but step back when Peugeot Philippines brought out the car for me so my eyes could linger over the curves and fully appreciate its beauty.
See, this is the nice thing about car appreciation. You can ogle a car all you want, you can run your hand over a fender and pat its rump, and people will just nod and say: "Ah, there's a car nut here." Do the same to a lady and you'll rightly be called a pervert--just before you get tasered in the nuts for good measure.
The black obsidian color seems to suck in available light and bring out the contrast with the sloping roofline, but get it in white and the car is damn near angelic. There are just so many aesthetic details with the RCZ that you can spend a whole afternoon staring at the car or idling in traffic, and you'd still be amazed at the craftsmanship. Granted, this is a mass-production car that sells quite well in Europe, but few other cars in our country can feel like a rolling piece of sculpture like this one.
See how the sloping, silver roofline perfectly accents the bubble-top roof. It's automotive architecture evoking a futuristic bridge, like something from Minority Report. Look more closely at the roof and you'll notice the two smooth bumps to afford passengers a little more headroom. The wide fendered rear is as irresistibly exquisite as Sophie Marceau's hips, and you can opt to sheathe the spoiler to preserve the clean aesthetic.
Despite the RCZ's low and wide stance, getting in or out is nearly as easy as your standard family car. The amply bolstered and supported front seats accommodate a wide range of passengers, all of whom will admire the leather-wrapped dashboard and its precise stitching. It's like sitting inside a giant signature bag, to be perfectly honest.
The analog clock will perfectly complement your vintage timepiece, and the only letdown you might notice is the amber multi-information displays in the instrument panel and atop the dash. They provide the standard information like outside temperature and trip information, but the clarity pales in comparison with the high-contrast TFT displays of most Japanese makes these days.
The steering wheel has a comfortable size (not race-car-confining), and is better suited for all-day touring rather than attacking your favorite set of curves where a faster ratio would be better. While the clean wheel configuration suggests the absence of controls for the cruise or stereo, they're in fact cleverly concealed behind the tiller on two little stalks. Truthfully, it takes a while to get used to the stereo remote stalk as it's crammed with buttons and you can't see any pictographs for reference. But hey, it really cleans up the wheel so you can better admire the pureness of the cabin, so c'est la vie.
Like a good European car, the highway ride is solidly stable, and the wide track helps the RCZ corner quite well with clearly an appetite for higher speeds if the drivetrain were more, um, gifted. As it is, the 155hp 1.6-liter engine works fine for everyday driving, but clearly isn't meant for the sort of enthusiastic, hair-raising, full-throttle, balls-to-the-wall driving the car's looks would suggest. The chassis and underpinnings could certainly handle another 100 or so horses, but one has to wonder how much more that would cost.
I drove the car for a long weekend in the city, on the highway, and on my favorite hill route, and I thought the car was no less enjoyable for not having the beans to go up against the other faster, meatier competitors. It's never tiring to look at, the cockpit is surprisingly accommodating up front (the backseat is more of a nice, leather shelf for your things), and the boot easily swallows medium-sized luggage.
The modest drivetrain precludes any real, spirited driving, but the car more than makes up for it with a refreshingly stylish, original and painless approach that proves you can have a lot of fun even if you're not speeding by at Mach 1. A painting can cost as much as a car, but can you drive it? The RCZ is modern artwork you can drive every day.
Photos by Andy Leuterio