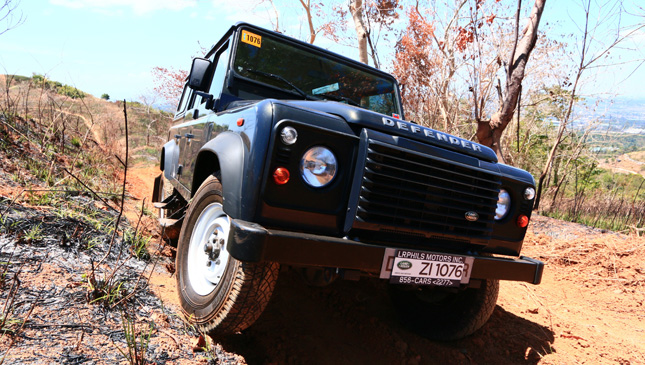 Mental note: Never agree to pick up a Land Rover Defender 110 when you've just spent five hours in the saddle on a furious bicycle ride, including a life-flashing-before-your-eyes impact with a wayward motorcycle. I was black and blue and in need of a hug, but there at the Land Rover/Jaguar dealership, amongst pristine and delicate Maseratis was the Defender--a veritable relic from the Lost World, sharing space with millions of pesos worth of fragile horsepower.
So the guard gave me the keys--Keyless entry? Woohoo!--I got in, and spent the next minute trying not to look stupid searching for the ignition switch. Then manong guard gently tapped the window to hand me some papers, and I would have opened it for him except I also couldn't find the power-window button, much less a manual winder. After a few more embarrassing seconds and several P-bombs, I found the switch on the left side of the steering column, and the power-window buttons on the center stack.
ADVERTISEMENT - CONTINUE READING BELOW ↓
At this point, my hungry, oxygen-starved, sleep-deprived mind was already thinking: "What kind of a sick, perverted soul would dream up a dashboard like this?" But of course, the best was yet to come. It took me a few more minutes to figure out how to turn on the headlamps. And the A/C vents are woefully inadequate to the task, as there are only four situated on the center stack--none on the outboard edges of the dash or in the back. I am aware that earlier-model Defenders had even more basic cockpits, so I was actually lucky this was a rather civilized model.
At the back of my mind, as I wrestled with the steering and lurched my way onto the streets while trying my best not to hurt anyone (or at least myself), I was wondering whether the Land Rover team had installed some hidden cameras in the cabin to record all my boo-boos. Ha ha, great job, guys! I wonder if all new Land Rover owners go through the same kind of initiation?
ADVERTISEMENT - CONTINUE READING BELOW ↓
Recommended Videos
Needless to say, my first sortie in the Defender was not a very good date. Last year, I listed the Defender as one of the keepers to have in one's garage. Perhaps I was drugged when I wrote it.
The next day, I decided to give it another go. After all, legions of SAS commandos can't be wrong, right? Since the '50s, the Defender and its predecessors have been used in all sorts of operations and in all sorts of environments. The very idea for the Land Rover, in fact, was inspired by the WW2-era Willys Jeep, modified versions of which were used by commandos to raise hell in the German rear. These days, the good guys are using "modern-day" Rovers to hunt down extremist goatf*cks, so I turned off my pussy-driving mode and decided to just HTFU.
You know what? The damn thing drives a lot better when you don't baby it. After I'd come to terms with the heavy clutch, the cumbersome steering response, the gravelly diesel, the perpetually moving suspension, and the shakes, rattles and mysterious noises that somehow plagued the 14,000km-old unit, I loved it like any man must love his assault rifle. I was finally having some fun.
ADVERTISEMENT - CONTINUE READING BELOW ↓
About that drivetrain: It's the closest you can get to a tractor. First and second gears are incredibly short, but third through sixth are spaced closely enough to enable some semblance of speed. Modern fuel injection makes it pleasingly responsive to throttle inputs, too. And then there's that noise. Engine noise, wind noise, tire noise...get moving in the Defender and you're treated to an aural assault that makes the cabin of a Vios sound like a Lexus. It's the four-wheel equivalent of the Bell UH-1 Iroquois helicopter, colloquially known as the "Huey"; it's 10,000 parts rolling in close formation.
If you have other quieter, more comfortable ride options, use them. It makes no sense to use the Defender for pedestrian chores like going to the mall or picking the kids up at school. It's just too crude to use it for the mundane. Instead, use it when life has you on a mission. When you're done, kick back on the hood and enjoy a Red Horse with your pet wolf. Man stuff, you know.
ADVERTISEMENT - CONTINUE READING BELOW ↓
During my test weekend, nobody needed saving, and nobody gave me a call to head over down south for some black ops, so I just went east for a little training exercise. I went up to Timberland Heights, a favorite of mountain bikers and casual off-roaders, and put the sucker in four-low gear, and the Defender pretty much drove itself up and down the trail with less drama than my wife's last C-section.
I probably spent more time trying to figure out the schematic of the Rover's lockable differential and manually operated 4WD system than I spent crawling up the 30% gradients in second gear. Put it in first and it will roll over anything the tires can scramble over; the only way to stall it might be to bump right up against a wall. That's if the wall doesn't fall down first.
Much has already been written about the Defender's off-road and near-amphibious prowess, so suffice to say that it barely broke a sweat during my stint. We went up and down the fire roads, traversed some ridges, climbed some embankments, and the Rover just happily chortled along, a billy goat in its element.
ADVERTISEMENT - CONTINUE READING BELOW ↓
By the time I was done, I was in love with this thing. No, I don't love the godawful ergonomics, the rudimentary construction, the nonexistent aerodynamics, or the fact that I hurt my wrist from repeatedly banging on the steering wheel hub in a vain attempt to press the horn. That was before I realized that the horn was actuated by a little button at the end of the turn-signal stalk. Who'da thought?
I love how it makes even a 4WD noob like myself look good on trails that would make a stock truck cry. I love the higher-than-usual seating position, the little flat areas on the hood you can place a hot mug of coffee on when you've gone camping, the little windows near the roofline that are great for safari trips. I love the little foldable stepboards. Heck, I even love the flat-panel sheet metal you wouldn't mind scuffing with a few scorch marks or bullet holes in the line of duty.
ADVERTISEMENT - CONTINUE READING BELOW ↓
You can pretty much physically and verbally abuse a Defender, and it just won't care. The only way you could stop one might be with an RPG or a .50cal round through the engine block.
A friend who owns two Defenders explained his affection for the icon: "It's like having a very expensive jeepney. It's not a very comfortable vehicle, and you would probably hate it if you had to use it every day, but it will never let you down." Despite this person also having a Lexus and a Subaru in his garage, the two Land Rovers are the keepers. Ask any other Land Rover owner and you will probably get the same sort of response. They love the thing so much, the resale value is a lot better than 90% of all other SUVs out there.
Cars will come and go, and engineers will think of the next big thing to make vehicles practically drive themselves, but the iconoclastic Defender is in a class of its own. It's a mistake to come to this thing after years of being spoiled by the average "soft-utility vehicle." It's basically an oversized utility box with four wheels and a drivetrain. It's not pretty, it's not quiet, and you'll probably hurt yourself the first few days you're getting acquainted with it. But it's the closest thing you can get to having your own war machine. When everything goes to hell in a handbasket, you may just have a fighting chance in a Defender.
ADVERTISEMENT - CONTINUE READING BELOW ↓
Photos by Andy Leuterio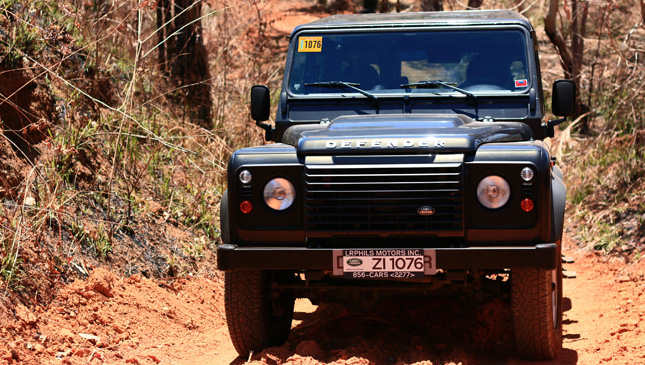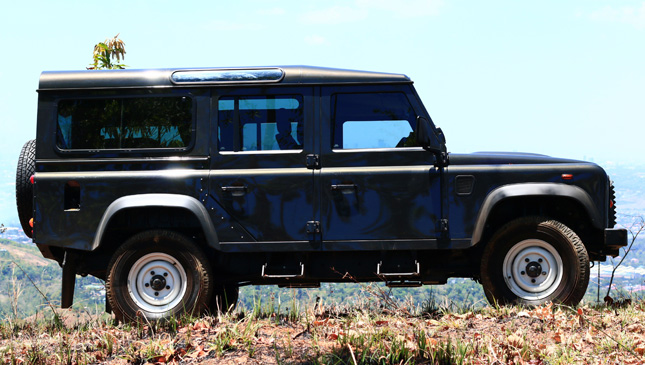 ADVERTISEMENT - CONTINUE READING BELOW ↓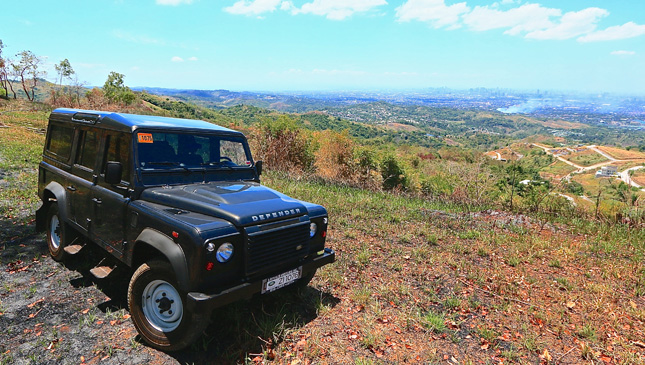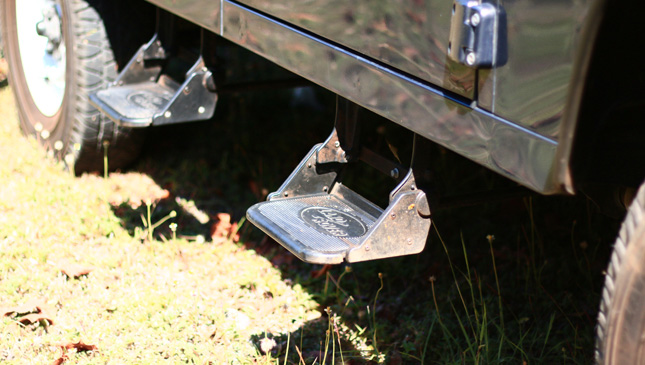 ADVERTISEMENT - CONTINUE READING BELOW ↓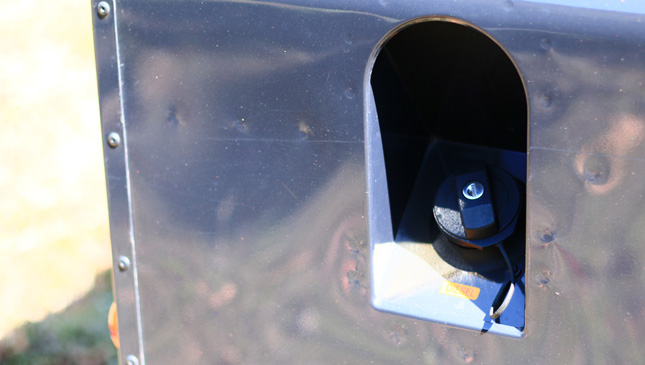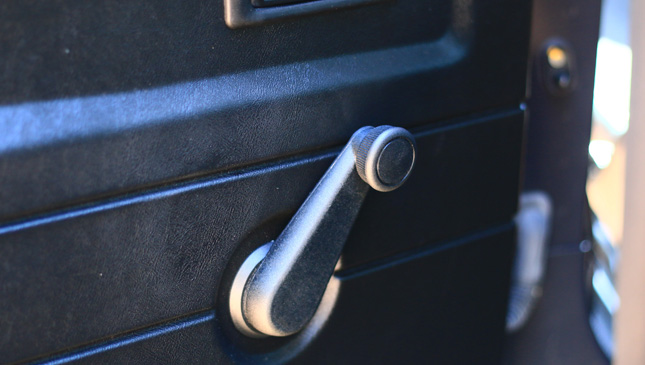 ADVERTISEMENT - CONTINUE READING BELOW ↓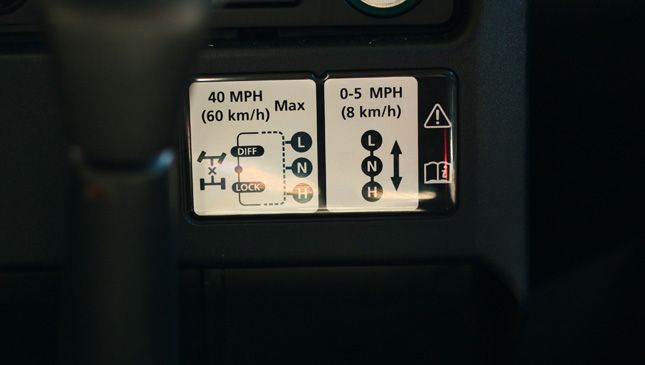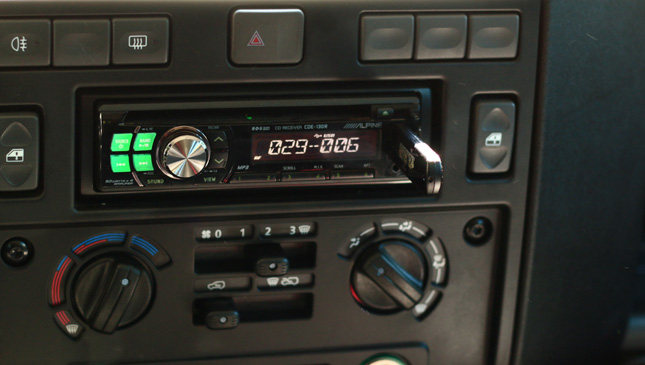 ADVERTISEMENT - CONTINUE READING BELOW ↓