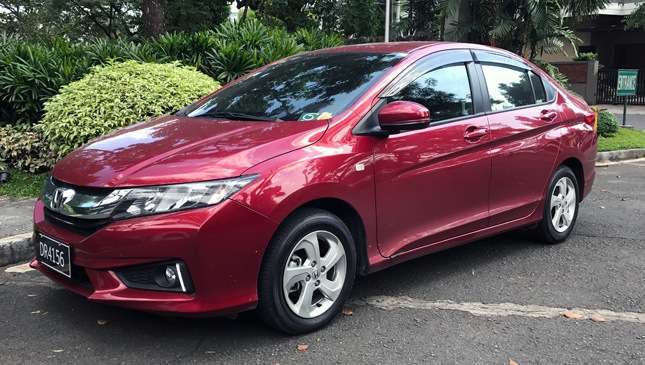 When Honda Cars Philippines' Lyka-Mae De La Cruz asked me to try out the City 1.5 E Limited Edition, I immediately said yes. I had driven the City VX Aero Sports before, and I found Honda's subcompact sedan to be truly relaxing to drive. Upon delivery of the unit at our office basement, I realized that this was not a top-spec variant but the value trim launched last year.
After being accustomed to all the toys that the VX variants offered, I admit the Limited Edition felt a little bare. There was no touchscreen multimedia unit, no start/stop button, and no steering wheel controls. I began to understand what 'limited' meant.
Continue reading below ↓
Recommended Videos
What you do get is a relatively friendly SRP of P824,000, as well as the proven 1.5-liter i-VTEC powerplant mated to a CVT. The safety features are also mostly retained: driver and passenger airbags, ABS and EBD.
On the outside, the City LE manages to avoid the dreaded base variant look. The Ruby Red Pearl paint job looks classy, there's a shark fin antenna, and check out the door visors for the rainy season. Slap some aftermarket wheels on this and it's ready to be posted on Instagram—not that the stock look is hard on the eyes.
After a few days you realize this is most of what you need in a reliable transport. The Kenwood head unit is easy to use (and is a nice throwback to Honda's history with the electronics brand), the A/C is still strong, the cabin is roomy, and in typical urban gridlock the fuel economy averages 8km/L.
Sometimes I absent-mindedly tap on the steering wheel because I expect audio control buttons to be there. And at the back of my mind I can sense there's a little too much black plastic. But you still get the spacious back seat and the comfortable NVH, and the 118hp 1.5-liter mill still cruises easily at triple digit speeds.
If you have million bucks, we'd still recommend the VX. But if this is more in your price range, or if you want to save a lot of money, the City LE is an easy choice.