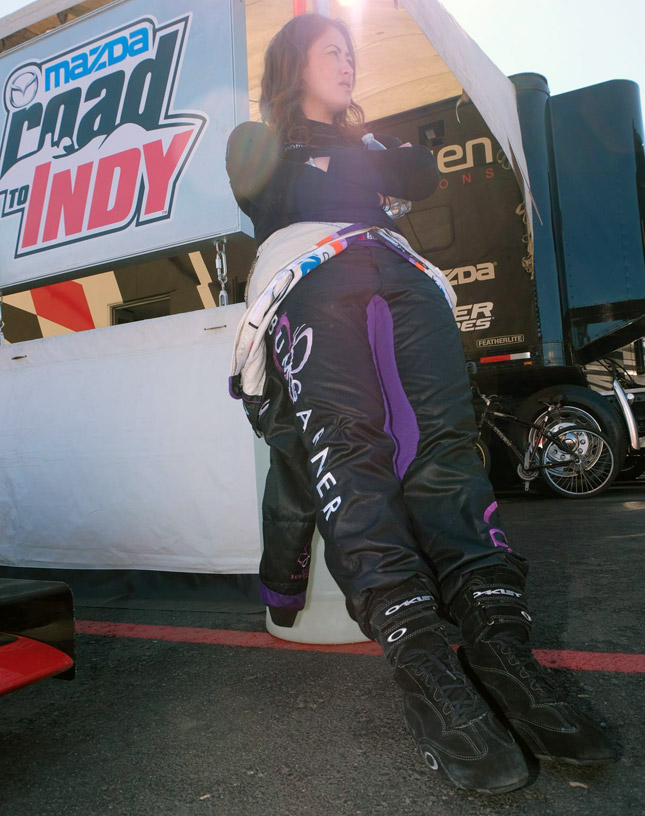 As one of the few female drivers on IndyCar's Mazda Road to Indy circuit, I am asked a lot (like a whole lot): What's it like to compete with the boys?
Seriously?
I do not know what it's like to NOT compete with the boys any more than Paul McCartney knows what it's like to be NOT a Beatle. He was a Beatle before he was bar-legal. And well, I've been a girl ever since I can remember!
The fact that the majority of race car drivers in the world are male, makes being a female driver unique. But it certainly doesn't mean we don't have skills. The race car has no clue that I wear mascara on my lashes under my helmet.
It just so happened that for a long time, women weren't allowed to race. I mean, we weren't even allowed in the IndyCar garage area or pit road until the late '70s. The first women allowed in the garages were journalists, and there is one confirmed report of a female reporter who had to take a pregnancy test before being allowed on the pit road. Really? Wow!
So it's understandable that the whole "woman driver" cliché got started in the first place. How can they expect anyone to be proficient without practice? But then a few brave men began to see the value of women not only off the track but also on it, and "allowed" us to crawl in the cockpit--my father included.
Continue reading below ↓
Recommended Videos
After I asked (a lot), my father decided that even though it wasn't popular yet for girls to drive, I should have my chance to kick my brother's tail on the karting track. Which I did! And it's a good thing, because now he is a world-class fashion designer, and I absolutely love it when he makes clothes for me! Lucky me, indeed.
So when I hear the question about being a woman driver, what I really want is to help change the perception of what it means to drive like a girl. There isn't an official rule that says a girl can't be fearless in the cockpit and love a great pair of heels. We can be strong. We can compete. And as indicated by my butterfly logo, I'm also proud to drive #LikeAGirl.
It's time for people to allow women to excel at their passion of choice and not be defined by our gender. Whether it's math and science, corporate leadership, sports or car racing, I encourage all my fellow Filipinas to get out there and take on the world #LikeAGirl!
Photo by Mikko David