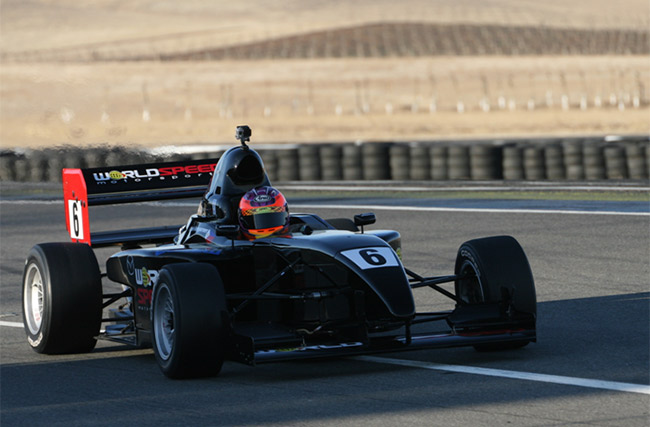 Although the Mazda Road to Indy (Pro Mazda division) 2013 season finished back in early October, that doesn't stop everyone from doing some winter testing to get a head start for preparations for the 2014 season in March. I myself booked a two-day test with World Speed Motorsports at Thunderhill Raceway Park in Willows, California.
To prepare for my test, I had to increase my daily workouts at PitFit, because believe it or not, test days can be a lot more physically demanding than actual race weekends. During testing, especially if you have the track all to yourself like I did at Thunderhill, you are constantly going to be running lap after lap, unless you come in for a quick setup change and take a breather--and even then you'll be back out again, just pounding down laps, until you eventually run out of fuel or wear the tires. And then you can come in and a take a longer break until you're out for the next session. Compared to race weekends, you have to share the track with all the other race series, meaning there is much more downtime than actual track time. So yes, being in tip-top shape all year round is very important for race car drivers!
Continue reading below ↓
Recommended Videos
As well as getting myself physically ready for my test, I had to prepare myself mentally, too. While I had never been to Thunderhill Raceway Park before, I decided to do some simulator work with Kelly Jones of RaceCraft 1 Motorsports Training to help me prepare for my test. Two days of testing is very important because usually the first day is kind of a throwaway only because you are just getting yourself familiar with the track and that usually takes either half a day or all day even. So in order for me to not waste any precious track time (because it does cost money), I booked five sessions with Kelly and went to work.
My test dates were on December 10 and 11, with my dad flying in from Manila to Indianapolis on the 7th, and we were off to San Francisco on the 9th, and then straight to Manila on the 12th from the test dates. So I had a stressful few days packing before leaving. Nonetheless, I was very excited for my test and went home for the holidays!
Before we decided to run at Thunderhill, the team and I had been in talks about doing the Pro Mazda Official Test at Barber Motorsports Park in Birmingham in Alabama, which took place on December 9 and 10. That was the original plan, but with Thunderhill, you can do a lot more with the track: You can either run the full course or just run the inner loop, which is tighter and similar to a lazy-eight course, which I felt would benefit me more than Barber.
Our flight out to San Francisco was at seven in the morning. Luckily, I only live about 15 minutes from the airport, but still a very early morning. We arrived in San Francisco at noon local time and drove the 150 miles (241.40km) north to Willows, California. We arrived at our hotel late afternoon after making a few stops, and it was bedtime for me as we had an early first day the following morning.
Call time for me was at 7:45am, and track did not open until 9am, but there were plenty of preparations to complete before the track went green. Preparing my car for the two track days were Craig, engineer Jan Trojan and Larry Nash. Before I actually go out on my first session, I took the rental car and did a few laps just to get more comfortable with the track, to see where everything was, and to look for braking points and turn-in points so that not everything is entirely new before I go out. Track conditions were in the high 30s (-1°C) and low 40s (4°C). Pretty cold!
First sessions are always the throwaway ones. During the first sessions, you need to make sure everything is working fine, like if the seat feels as comfortable as it can be, if the belts fit just fine, if the water/oil temperatures are good, and so on and so forth.
The first day was a pretty good day. By the end of the day, I had shaved off a few seconds from the first session without dropping a wheel, which is not bad. Both Larry and Jan were out on the track at certain corners observing each session and would tell me what I was doing wrong and doing right, or if I was too slow going into a certain corner, not carrying enough speed, or if I was braking too soon or too late, or not hard enough. Not only did they give me pointers while I was out on the track via radio, but we debriefed each session with computer data downloaded from the car to review issues they couldn't see from the outside--like if I was on full throttle through a fast corner or not, how hard I was braking, or if my throttle blips while downshifting were too high or too low, etc. They were all good, constructive criticism to learn from.
Having more than one test day is very important--even crucial--because just like anything else, after doing something once, at the end of the day, you think about what you can do to make it better for the next. So for the second day, I was a bit more excited than the first because I had already run a full day on the track, and I knew what I needed to do to improve from the day before. Like take T1 in sixth gear instead of fifth, carry more speed into T6 and T9, and brake harder and later on T14. Also important for me was to pick up where I had left off the day before, so as not to start from scratch again and waste valuable track time.
Day two was a very good day for me as I was working on the things I needed to work on. But I was improving with each session. My times went down and I was fast. And at the end of the day, we decided to run the small inner loop for a bit and have fun. All in all, the entire test went very well. The team was happy and so was I, because now I know I'm getting more and more prepared for the 2014 season.
So now that my test was done, we had to pack up and drive back down to San Francisco, check in, sleep for a few hours and head to the airport to fly back home for the holidays, and I could not wait. After driving for two days, I knew I was going to be sore, so I was pretty excited to travel so I could just simply relax and sleep.
I was home until the 31st of January, so I had a pretty good amount of time to see family and friends who were home for the holidays as well. For Christmas, my family and I just spent time at home. Then we went to the beach for a few days, and then drove up north to Subic to spend New Year's Day.
Also while I'm here, I try and play a lot of tennis and eat at my favorite restaurants! (Haha!) I'm not looking forward to going back to Indy in a few weeks because of the snowstorms, so I am definitely taking advantage of the shorts and T-shirt weather while I still can!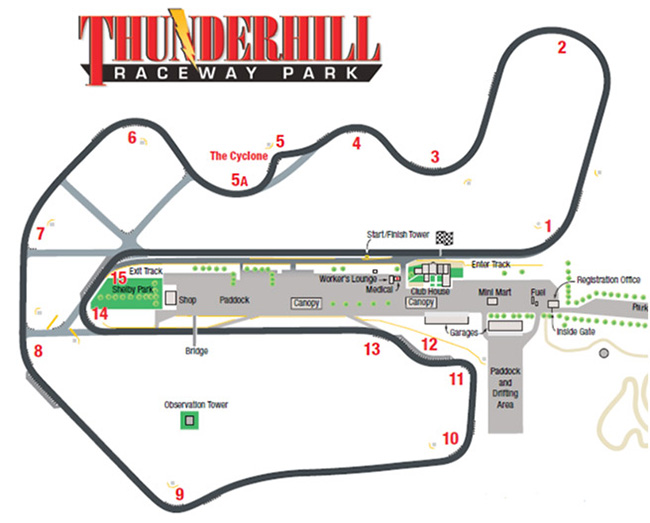 Thunderhill Raceway Park Track Map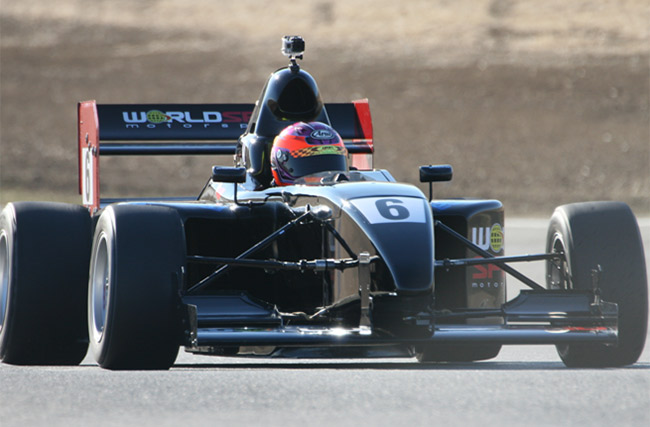 On the Thunderhill Raceway track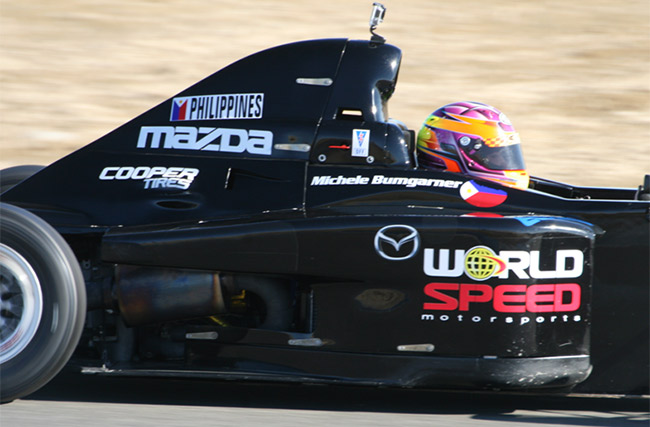 It's an honor to be able to display the Philippine flag while racing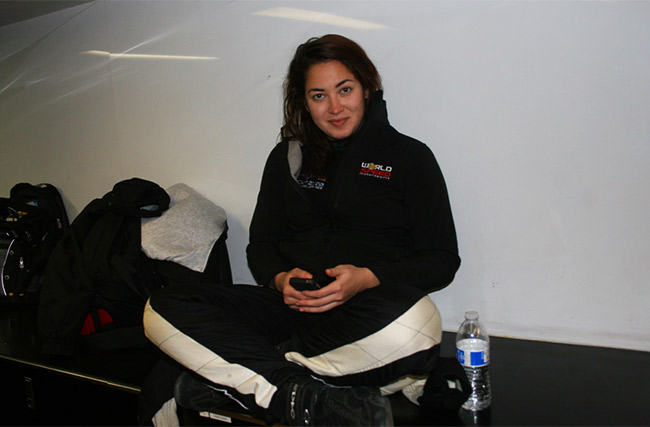 Some downtime in between sessions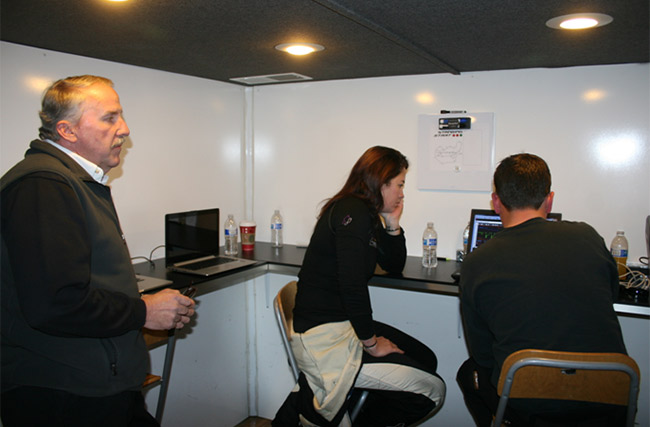 Debriefing with Larry Nash of Nash Performance and Jan Trojan of World Speed Motorsports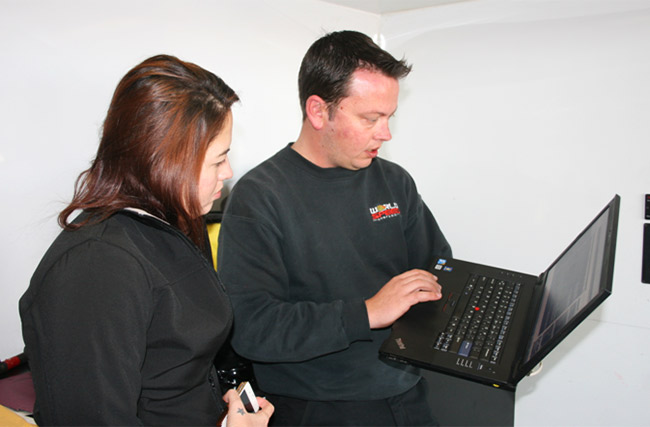 More debriefing with Jan