After the completion of Skyway Stage 3 (SS3), San Miguel Corporation has its eyes set on the Pasig River Expressway (PAREX), another elevated toll road that aims to decongest the major arteries of Metro Manila. But there has been a lot of pushback to it, with the majority of commuters not in favor of yet another elevated toll road. But is it a bad idea? And why?
There's no denying that the Skyway and the newly opened SS3 make travel more convenient for those coming from outside the city. But that level of convenience came with a cost in terms of increased traffic during and after the construction of the SS3 elevated road—a similar issue seen with NAIAX, which complicates traffic flow at chokepoints along its length and at its major exits. And as early as now, even with the low volume of traffic overall on the road, you can see a buildup of traffic at major chokepoints, such as Quezon Avenue.
ADVERTISEMENT - CONTINUE READING BELOW ↓
PAREX will bypass some of these issues by traveling mostly along the route of the river itself. This presents major challenges in construction, but also minimizes the effects of construction on surface-level traffic, both during and after construction. There's nothing majorly shocking about the idea, as part of SS3 already traverses along the San Juan River to avoid right-of-way issues.
The other issue, chokepoints, is not as easy to solve. PAREX is set to be integrated into the Skyway system at some point, allowing for a transfer of traffic without vehicles having to descend back to ground level. But other major intersections served by PAREX are already traffic hotspots during non-quarantine times. What another toll road does is simply move vehicles into those congestion points faster than before.
Beyond that, elevated roads do have an effect on how residents experience the city. The presence of overhead roads puts a price on fresh air. Those who can afford to use them won't notice, but communities around and under these structures lose their access to the sky. That's something most of us who can afford to use toll roads take for granted.
ADVERTISEMENT - CONTINUE READING BELOW ↓
Recommended Videos
Beyond the mere aesthetic drawbacks, the proximity of elevated roads depresses property values. Granted, greater road access should increase the value of land, but this land already has road access. What elevated roads do, in this case, is allow traffic to bypass them, while making them less appealing for low-rise residential or commercial development.
Just look at the proximity of some buildings to the Skyway—once the road goes through, you become limited in terms of land use. Many lot owners who've been hemmed in by highway development end up selling out to real-estate developers once their property has lost most of its useful value. There's a good reason that the overpass at the northern end of C5 was tied up in court cases for years. The residents of the village living underneath it were wary of its effects on the values of their home property, and rightfully so.
ADVERTISEMENT - CONTINUE READING BELOW ↓
And there are also valid questions as to what percentage of the commuting public will benefit from these new roads, versus the social and economic costs of their construction. Ramon S. Ang's suggestion of creating a BRT line specifically to run along SS3 is in recognition of the limited utility of this corridor in decongesting ground-level traffic without democratizing its use.
As it is, its ability to decongest EDSA in any meaningful way is still up in the air. It merely replicates the function of the Nagtahan-to-Balintawak route that most of us already took in the old days. Is saving that extra hour worth P264 to you? If you're rich, maybe. If not, maybe not.
Despite the lower per-kilometer cost, the southern leg of the Skyway and the NAIAX still don't eliminate ground-level traffic—traffic which has worsened because of congestion caused by the ongoing construction of the Skyway. Yes, SS3 travel is quick now. How can it not be, given Manila is still under quarantine? But once the economy opens up fully, there will be tens of thousands of motorists vying to enter the same chokepoints at Quirino and Quezon Avenue from multiple entry points.
ADVERTISEMENT - CONTINUE READING BELOW ↓
Just because you have multiple entry points doesn't mean both parking and inner-city road capacity have increased in any meaningful way.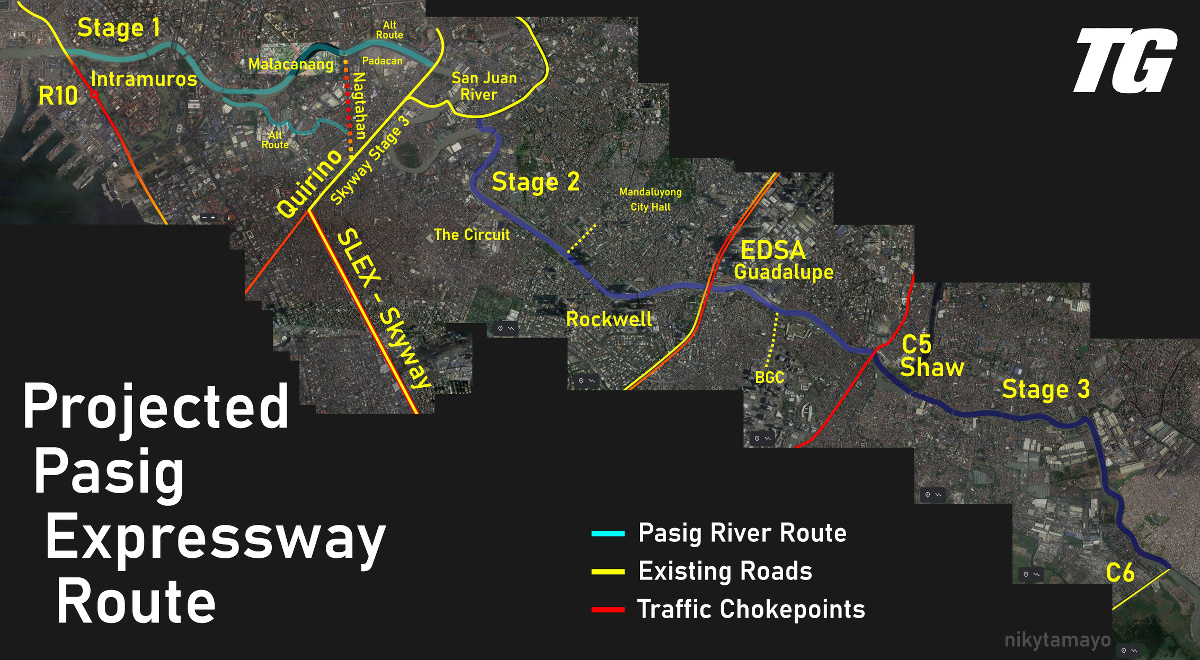 Which leaves us with PAREX. The Pasig River Expressway will be unique in that it doesn't strictly duplicate any existing routes. Like C5, it should provide a valid alternative corridor through the city. Unlike C5, it doesn't create any new opportunities for land development, except perhaps at its easternmost limits, where it intersects with C6. But it has some of the same issues as SS3, spitting motorists out into heavy traffic at R10, around Jones Bridge, and at EDSA and C5. The Plaza Azul interchange and the San Juan leg won't be as much of a problem, as it connects to SS3 at this point, but this is an area where right-of-way issues may pose the biggest challenge to PAREX.
ADVERTISEMENT - CONTINUE READING BELOW ↓
Perhaps the bigger hurdle is in the arena of public perception. There are worries as to the effects of PAREX on the quality of life around the rivers. It is perhaps a bit disingenuous to tie Pasig River cleanup to the construction. The company will be dredging it not for the benefit of the environment, but to allow them to sink a solid foundation for the PAREX itself. And the access of communities along the river, as well as navigation, will possibly suffer.
If SMC is serious about PAREX, it will need to present a compelling case for how such a structure could improve quality of life, tied into facilities built into its foundations—say, park areas or ferry terminals—that will improve access to Pasig for those who do not benefit from PAREX itself. But the bigger challenge is justifying yet another elevated road in a city that needs to prepare for a post-car future. Even if it isn't by choice.
ADVERTISEMENT - CONTINUE READING BELOW ↓
As the world moves toward a gasoline-free future over the next 20 years, we're left with the conundrum of a shrinking supply of new cars and electric replacements far beyond the means of the common Filipino commuter. A commuter increasingly reliant on alternatives such as bicycles and personal mobility devices, and one demanding greater access to public transport rather than yet another expensive toll road to serve the few at the expense of the many. The fact that none of these toll roads allow access to small motorbikes, despite their low speed limits, simply drives that point home.
In the end, we could be wrong. PAREX could be the last elevated road we'll ever need, and could finally decongest many of the major chokepoints along its route. But we doubt it. An already crowded city with limited parking and road space doesn't benefit from more car access.
ADVERTISEMENT - CONTINUE READING BELOW ↓
First World countries have started demolishing highways and elevated roads that bisect cities, and are finding that property values and development improve as a result. Maybe it's time, instead, to start looking at new north-south corridors physically outside of Metro Manila, spreading development out to places not hampered by limited space and overpopulation. This also helps build infrastructure resiliency. With several 'alternate' routes converging on key points like the Magallanes interchange and the Quirino interchange and Balintawak, the risk of isolated road accidents freezing up our entire traffic grid is all too real.
In the end, not only do we have all our eggs in one basket—we also have our baskets stacked on top of each other, precariously, just waiting for that single incident to bring them all crashing down.