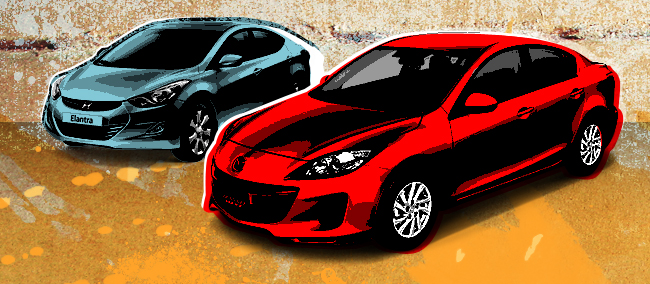 Hi, Botchi. I need your help. I'm looking for a nice-looking, fuel-efficient car. I like the exterior designs of both the Hyundai Elantra and the Mazda 3 Maxx. They are both nice-looking cars, although I'm slightly leaning toward the Mazda 3.
I will mainly use the car for city driving but will occasionally go on long drives out of town, so I think I have to take into consideration fuel efficiency, comfort and handling. Any suggestions?
Thanks,
Iko Victorino
Hi, Iko. Thanks for your e-mail! Your situation is a very common one, and one I get asked a lot by family, friends and even colleagues on the motoring beat.
The Hyundai Elantra is indeed an intelligent choice: It truly bridges the gap between Japanese and Korean cars. Sure, it lacks some of the polish and refinement of the Japanese cars, but it's almost like splitting hairs. You'll be happy with an Elantra despite some foibles (which include a slightly clunky suspension even when new, and a chassis that isn't as stiff, as refined and as quiet as the Japanese), and the looks are fantastic! Throw in some bigger aftermarket wheels, drop the car a bit, and get a decent lip and side skirts from the many aftermarket retailers. This will absolutely transform your Elantra into a futuristic compact sports sedan!
Continue reading below ↓
Recommended Videos
Now, before you finalize your short list, consider that the new Mazda 3 has just been launched. You might want to consider that before making your purchase. The older 3 is, in all honesty, okay, but there are other sedans in this segment that are more interesting such as Honda's Civic (yes, it actually is pretty good, even if it's expensive), Toyota's new Altis, Subaru's Impreza (arguably the best car of the bunch in this segment), and the often-overlooked and highly underrated but very capable Mitsubishi Lancer.
The Honda Civic is a fantastic all-rounder and has excellent build quality. It is roomy and fuel-efficient, and it drives well, if a tad mature and less sporty. I don't like the price (a bit expensive) and the looks (a little bland, unless you get the Modulo kit and wheels, which transform the car completely but are very pricey).
The Toyota Corolla Altis is very new, so I can't comment yet but it does look good. And knowing Toyota, it is the path of least resistance, motoring-wise. And thanks to Toyota's concerted global effort to inject fun and sportiness back into its product lineup, it will be much better to drive than the previous model. How much fun and excitement it has is anyone's guess for the moment.
The Subaru Impreza is currently my favorite. Build quality that exceeds Honda's, amazingly sporty drive (for this segment at least), roomy interior, great features plus AWD grip. The CVT, something Subaru has been making huge noise about, helps gain a whole lot of fuel efficiency despite the added drag of AWD. Solid like a rock, and as connected and as direct as can be for a car in this segment.
The Mitsubishi Lancer is the silent worker in this group. The 2.0 GTA is an excellent sports sedan, matching the Subaru's sharpness with the Civic's refinement. It is getting on in years, but is still a very highly capable sports sedan. You also get the excellent Rockford Fosgate sound system on the top-model variants. And in 1.6-liter manual trim, it has far more value than your usual Vios, City, Accent and Rio, and delivers excellent fuel economy thanks to the very torque-rich 1.6-liter engine.
Whatever you get, I recommend that you go for the highest-grade variant your money can buy. It will retain its value better in the long run, and you will be happier with it cruising on the highway, stuck in traffic or blitzing your favorite road.
Good luck, and God bless!
Botchi Santos
Consumer Editor
Do you want Botchi to help you pick the right car? Send your inquiry to topgear@summitmedia.com.ph.
Artwork by Raynand Olarte
[poll]534[poll]