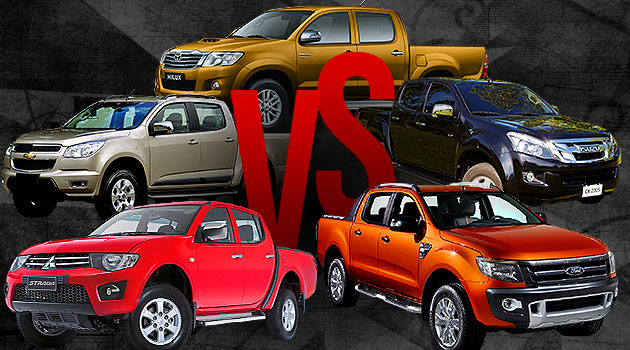 Good day! We would like to purchase a pickup and we need your opinion. Can you give your comments, suggestions and feedback on the Ford Ranger and the Mitsubishi Strada? How do these pickups perform? What are their pros and cons? I'm looking forward to reading your response. Thank you very much and more power to Top Gear Philippines!
Kyu Hong Kim
Hi, Mr. Kim. Thank you for your e-mail. I believe this is the first time that I'm replying to a foreigner in the Philippines, and we're always glad to be of help. I apologize as well if this reply comes late, but here's a rundown anyway of the pickup trucks you requested.
* Ford Ranger. It is the biggest pickup and has the biggest bed (the Wildtrak version has the highest fording depth of 800mm, although Ford has tested to beyond 1m). It has the biggest pickup-bed payload of over 1 ton (although during relief operations in the Visayas, some volunteers have tested the bed to carry as much as 2 tons' worth of equipment and relief goods with no issues), and the highest towing capacity as well in its class. It drives like a truck, and the preferred engine is the top-model 3.2 liter five-cylinder diesel with a six-speed automatic transmission and 4WD. I've met some Ranger owners who bought the 2.2-liter variant and are quite disappointed with its performance, wishing that they'd gotten the 3.2 instead, so best to keep that in mind. Downside? Well, I find the backseat tight compared to the Mitsubishi Strada's and the Toyota Hilux's. And it's the most expensive pickup when you consider the 3.2 versus other top-model variants. If you'll be carrying a lot of people, this might not be the best choice. It's an impressive off-road vehicle, and best for hauling and towing.
Continue reading below ↓
Recommended Videos
Read: Ford Ranger 2.2 XLT 4x2 MT review
* Mitsubishi Strada. It is not the best in terms of absolute performance. It has modest off-road ability (preferring rally-style dirt roads and smooth pavement over hardcore trails), and has the smallest bed in its class but has the roomiest interior and a very responsive engine-and-automatic-transmission combination. It's also very reasonably priced--the cheapest, in fact, when you weigh in all the specs and options for the top-model variants in the pickup segment. It is the best pickup for carrying five people and for everyday urban use. There are several variants to suit your budget. Best value for money, and best suited for carrying people through light to medium off-road terrain.
Read: What's the best bang-for-the-buck mod for a Strada?
* Toyota Hilux. It is the pickup that started the modern genre of light trucks. Good, excellent even, but quite expensive for what you get. Every pickup on the market today has a five- or six-speed automatic, but this one makes do with just four-speed. Of course, resale value is excellent--reliability as well--but the D-4D CRDi system of Toyota seems a tad more sensitive to poor diesel fuel quality. If you'll be taking this a lot to the province without access to premium diesel fuels, it will be worrisome over the long term. It has a roomy interior and comfortable backseat, but its more slanted backrests mean this isn't as comfortable on long drives for passengers at the back. It has good balance of interior comfort for carrying people, hauling, towing and off-roading, but quite expensive and old.
Read: The Toyota Hilux involved in the GT-R accident in Tagaytay
* Isuzu D-Max. Isuzu finally launches an all-new pickup a decade after the first D-Max came out. Sadly, we still don't get the 2.8 VGT engine, but we still have the excellent 3.0 that powered the old model. Neither as fast nor as powerful as the competition, but arguably the very best off-road pickup right out of the box. Isuzu also listened to customer feedback and made the interior more sophisticated and more car-like, fitting taller, bigger people better. I haven't tested this one yet, but from what I've seen, this is worth looking into. Same as the Hilux, but with even better off-road ability.
Read: All-new Isuzu D-Max delivers 26.12km/L in third-party test
* Chevrolet Colorado. A left-field choice, this is actually the D-Max's twin. It comes with all the goodies of the D-Max, but with a more powerful 2.8-liter CRDi VGT engine (now with 200hp and 500Nm), which makes all the difference in driving fun and enjoyment. Interior quality is still lagging a bit behind the Japanese trucks, but if you can live with that, the Colorado pleases and delights. Easy to burn out, too, just like the Ranger! Performance, however, is let down by smallish tires. It could use bigger, wider and fatter tires to improve traction on and off the road. It's comfortable inside, impressive on the highway and off-road, and decent with carrying people. Its pickup bed is also generous.
I hope this helps out. Keep us posted on what you decide to get. Good luck and happy motoring!
Read: More powerful Chevrolet Colorado now on sale in the Philippines
PS: I love Korean barbecue!
Botchi Santos
Consumer Editor
Do you want Botchi to help you pick the right car? Send your question to topgear@summitmedia.com.ph.
Artwork by Lloyd de Guzman
[poll]487[poll]