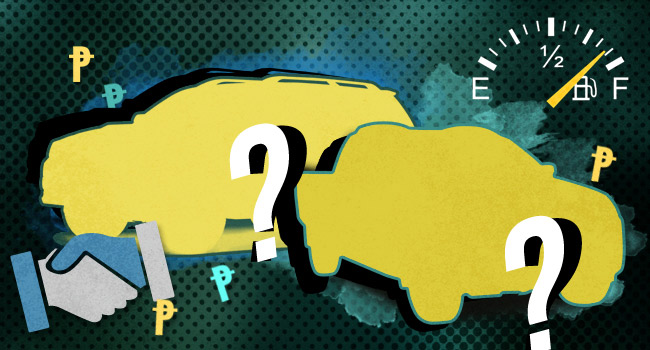 Dear Botchi, your Top Gear articles--both in print and on the web--have been helpful and informative. They are a joy to read.
I am looking for objective answers to my questions. I sincerely hope that you could find the time to read and answer my questions. Should your answers be published, I would like to request that you do not reveal my complete name. I do not want my search for answers to be misinterpreted or misquoted as defaming or slandering any company or brand.
How would you rank the following vehicles in terms of engine power (acceleration, top speed, torque especially when loaded and when going up an incline, towing capability, etc.), fuel consumption, durability/structural integrity and functionality of the chassis, mechanisms under the body, steering, body (especially given our pothole-riddled roads and perennial flooding), safety features, load capacity (passenger and cargo space), value for money, and after-sales service (including parts availability)?
* Mitsubishi Montero Sport
* Toyota Fortuner
* Ford Everest
* Mitsubishi Strada
* Toyota Hilux
* Isuzu D-Max
* Ford Ranger
Are the Everest and the Ranger still using the Mazda platforms?
To give you a clear picture of my driving routes and habits, I have three categories of driving: (1) weekdays and weekends with no long drives; (2) weekends and holidays with long drives; and (3) short leisure drives. Here are the details:
Continue reading below ↓
Recommended Videos
1. Weekdays and weekends with no long drives:
* Use/purpose - It is the usual commute from home to the office and back, sometimes with a trip to the grocery after work. It is a time-sensitive drive, such that schedules should be followed.
* Driving distance - The average one-way driving distance is about 25-30km.
* Driving time - On weekdays, driving time is an average 1.5-2.0 hours in the morning and 2.0-2.5 hours in the late afternoon. On weekends, it's an average one hour in the morning and one hour in the late afternoon/evening.
* Passengers - The vehicle will have two to five adult passengers.
* Cargo - I just usually carry laptop bags, some lunch bags, books and documents for work and church.
* Usual routes and road conditions - I usually take Marcos Highway, C5, EDSA, the roads inside Bonifacio Global City, Ayala Avenue, Buendia Avenue, Roxas Boulevard, UN Avenue, Taft Avenue, Quirino Avenue, Osmeña Highway, Lacson, España Avenue, Araneta Avenue, Quezon Avenue, E. Rodriguez Avenue, Ortigas Avenue, Quezon Circle, Commonwealth Avenue and Katipunan Avenue.
2. Weekends and holidays with long drives:
* Use/purpose - The vehicle will be used either to transport people (children may be included) and their luggage, or equipment to and from locations around Luzon. Time-sensitive driving--that is, there are schedules to be kept.
* Destinations/routes - Destinations vary (Manila, Baguio, Dagupan, Laguna, Naga, Legaspi and Calatagan).
* Passenger - It will carry about two to six adult passengers.
* Cargo - It will carry the usual backpacks, meal bags and equipment. Equipment vary depending on activities.
3. Short leisure drives:
* Use/purpose - The vehicle will be used for recreation and a relaxed drive that follows no strict schedule.
* Destinations/routes - It will be used for drives going to Clark, Subic, Tarlac, Bataan, Bulacan, and Santa Cruz in Laguna area or Tagaytay area.
* Passengers - The vehicle will carry two to five adult passengers.
* Cargo - I will bring a day pack, backpacks, some lunch bags, and equipment (photography equipment, one to two mountain bikes, camping gear, and non-electrical musical instruments like guitar, saxophone and violin).
When I test-drive a vehicle, I usually check the following:
* Acceleration (0-60kph for diesel; 0-100kph for gasoline);
* Turns while slowing down from about 40kph and while accelerating to about 40kph;
* Turns without slowing down doing about 20-40kph;
* Braking to a complete stop while driving straight (while stepping on the brakes immediately from a speed of 60-80kph) and while turning left/right (running at around 40kph);
* Power (on an inclined road from a stopped position);
* Steering (to check how responsive it is and its sensitivity to road bumps); and
* Ride comfort for the driver and the passengers.
Thank you for taking the time to help me find some answers. I look forward to reading your reply.
Respectfully,
Lincoln
Lincoln, thank you for the extensive e-mail. You have a lot of specific questions there, so we'll try to answer them all to the best that we can.
* Mitsubishi Montero Sport - Its 2.5-liter VGT-equipped engine produces the best in terms of peak horsepower and second-best in torque output at 176hp and 350Nm, respectively. It also comes attached to the best automatic transmission, an INVECS-II five-speed automatic with Super Select shift-on-the-fly 4WD transmission, which really allows for a wider range of effective wheel horsepower. The transmission is very responsive such that it quickly downshifts with a modest prod of the accelerator pedal. As for checking its 0-60kph time versus your preference for a gasoline vehicle's 0-110kph time, you will be surprised that the Montero Sport (along with most modern CRDi diesel-equipped engines) will out-accelerate most gasoline-powered cars in the same price range, thanks to massive torque available down low.
After having driven it extensively many times, I'd say that ride comfort is on the harsh side; it rides softer than a Toyota Fortuner, but you feel a lot of high-frequency vibrations (such as road imperfections) noticeably more in a Montero Sport versus the Fortuner. Steering feel is decent, but is noticeably heavier compared to the Fortuner's. Towing capacity for these vehicles is in the same range as well.
* Toyota Fortuner - This is an older vehicle. Despite numerous facelifts and mechanical improvements, it is still the same vehicle Toyota launched a decade ago. The power from the 3.0-liter D-4D engine is at 163hp, with 340Nm of torque, slightly lower than the Montero Sport, but it only comes equipped with a four-speed automatic (one less than the Strada). In steady-state highway driving, you won't notice the difference, but in aggressive and sporty driving, in off-road driving conditions, or when towing and hauling very heavy loads especially up on inclines, you will miss the extra gear that would have endowed the Fortuner (if it had one) added flexibility especially at medium speeds from 60 to 120kph.
Comfort-wise, the Fortuner--despite riding firmer--has for me, a noticeably more comfortable ride because it has better NVH insulation. You do get much better headroom, too, thanks to a taller cabin that gives you a luxurious and airy interior, and the front windshield is less steeply raked. For tall guys, it makes a difference getting in and out especially in tight parking slots where the doors aren't fully open. The A-pillar won't go bonk on your head. Steering effort on the Fortuner is light, just like most Toyotas. There's decent feel, and as speeds pile up, it weighs up nicely. But when you're slogging through in traffic, the light effort required by the steering is a much-appreciated characteristic of the Fortuner versus the noticeably heavier Montero Sport.
For testing acceleration from a standstill with automatics, the best way is to brake-torque. Step on the brake pedal so the car is in a full stop, then slowly step on the accelerator pedal up until about 1,400-1,500rpm. You can feel the resistance building up as the torque converter gets wound up. Hold it for a few seconds, then simultaneously release the brake pedal and floor the accelerator pedal. This negates the slipping sensation a torque converter gives to smoothen moving off from idle.
As for braking in a straight line, absolute braking performance is ultimately dictated by the tires because they are what actually connects your car to the road. Go beyond the limits of your tire's traction, and your brakes will lock or trigger the ABS. Next would be the suspension as it limits the weight transfer from front to back (when accelerating) and vice versa (when braking). Last is the friction generated by the brake pad against the brake disc. You will feel slightly varied straight-line braking performance depending on the weight your vehicle is carrying (fuel load, passengers and cargo).
All things being equal, the Montero Sport has the absolute best braking package in this segment for me. We've gone flat-out on Clark International Speedway in a Montero Sport with five people on board, and the Montero Sport has surprisingly powerful brakes, allowing the suspension to gradually load up the tires up front and turn confidently. The Montero Sport also has the firmer, more responsive and progressive brake pedal, in my opinion, versus the Fortuner.
Being similar in many ways, the Strada pickup shares these braking advantages with the Montero Sport, but is more prone to rear-wheel lockup due to the cargo bed having virtually no weight over the rear axle and brakes most of the time.
As for braking into a corner, trust me, every driving instructor (including race driving instructors) will tell you to always brake in a straight line. As the late Kookie Ramirez often told us motoring journalists: Finish your braking business first while going straight, then attend to the steering aspect once you've reduced your speed. Trail-braking (braking while turning into a corner) is a bad habit to develop and makes for jerky, unsmooth and ultimately unsafe driving because if you introduce negative acceleration (braking) into lateral acceleration (cornering), you have more external forces working against your car causing instability. The faster you are going and the more weight you are carrying (both equating to force or momentum), the more dangerous it gets. Having said all that, the Montero Sport is also superior in emergency trail-braking situations than the Fortuner in my opinion, but mostly because of better rear-end grip and stability.
* Ford Everest - The Everest is old. It's so old I can't remember when I last drove it. It has a really harsh ride, is tight inside, and the engine--though willing--is simply outclassed by its competitors for technology, refinement and fuel efficiency. It may have the highest torque output of 380Nm attached to a five-speed automatic, but you only get 154hp, and you need horsepower for top-speed cruising. The automatic transmission isn't as responsive as that of the Mitsubishi as well from what I recall. It really shines in off-road conditions where it is the best out of the box, thanks to excellent traction and suspension travel. But hardcore off-roading doesn't seem to be on your priority list. Wait for the all-new Everest, which is coming out sometime in the first half of 2015 if you really want to go this route. Now that is a totally different animal!
* Ford Ranger and Mazda BT-50 - In terms of flood-wading ability, the twins rule here with their 800mm wading depth. This high ground clearance also gives you the most mobility and versatility off the beaten path out of the box. In 3.2-liter five-cylinder diesel guise, they are also the most powerful, delivering 200hp and 470Nm, mated exclusively to a six-speed automatic 4x4 transmission.
In terms of subjective feel, these engines deliver the vast majority of their grunt in the midrange tapering off significantly toward the redline. In short, you'll love how the engine is tuned for the city and the off-road. But on the highway when you're gunning for v-max and where you generally need most of the power to be at the top end, it feels kind of flat because the power tapers off.
Inside, both are great, but steering is on the heavy side. The Ranger and BT-50 twins really feel like a huge truck, making low-speed maneuvering even more difficult. Some people like it, but some (including myself) aren't too happy with this because of tight city streets and cramped carports and garages.
I've only gone to about 160-175km in a BT-50 3.2, and it's not something you would like to do on a regular basis because the empty bed gets very lively at speeds past 120kph. Combined with the massive torque plus a bed specified to carry a ton (some say 1.5 tons is doable without compromising the pickup's structure or powertrain), losing traction over the smallish rear all-terrain tires is a very real risk. In other words, you can find yourself spinning out and losing complete control at high speeds, even with the electronic stability program, which comes as standard on the Wildtrak.
In terms of towing ability, most pickups in this class can tow about the same as their bed payload capability, so one ton should be easy. Off-road ability is excellent out of the box with the Ranger, too. Lastly, for such a big truck, I find the back seats being tight. The pickup bed, the biggest in this class, accounts for much of the exterior dimensions.
(Check out 'Family feud: Ford Ranger Wildtrak vs. Mazda BT-50')
For the record, it is Mazda that uses the new Ranger platform for the BT-50; Ford developed it to be a truly global platform. Drive them back to back, though, and they feel different enough because of the different interior appointments of Ford and Mazda.
Realistically, you'll probably have an easier time buying the BT-50 because there's a waiting list for the Ranger Wildtrak due to the very strong demand in larger markets abroad (particularly in Thailand where it is made), so we get very limited units of the Wildtrak, especially the 3.2. Mazda doesn't seem to have such problems.
On the safety front, these two pickup trucks in top-model 3.2 4x4 trim get six airbags, ABS-EBD brakes and ESP, making them the most well-equipped in passive safety features. As for crash/crumple zones and door protection bars, all cars have them now so rest easy on that.
* Chevrolet Colorado and Isuzu D-Max - Surprisingly, Chevy's pickup offers the next closest competition to the Ranger and the BT-50. It has a 2.8-liter four-cylinder CRDi engine that actually eclipses the Ranger/BT50's output, with 500Nm and the same 200hp. The power also carries through to the redline, unlike the Ford/Mazda five-cylinder lump. But off the line and through the midrange, the Ford/Mazda engine comes on stronger, whereas the Chevrolet feels peakier.
Inside, the Colorado is roomier than the Ranger, but because the former uses green-colored LCD screens that look so '80s. The Colorado's interior plastics still feel cheap and don't give justice to the rest of its polish. I still rate the Colorado's cabin look and feel lower than the Ranger's.
When it comes to its off-road capability, I feel the Colorado just needs bigger and better tires because it easily slips and slides when the road is wet, muddy or uneven. Otherwise, it's also quite good out of the box.
(Read: Chevrolet Colorado 2.8L 4x4 AT LTZ review)
In this sense, the Isuzu D-Max, which shares most of its major components with the Colorado, is just as good in most aspects. GM owns part of Isuzu and co-developed this new platform together with Isuzu. However, Isuzu's pickup has noticeably better off-road performance straight out of the box, because suspension tuning and tire/wheel selection is better done by Isuzu than by Chevrolet. The only reason the Colorado is better than the D-Max is because Isuzu still hasn't equipped its pickup with the newer 2.8-liter engine with VGT turbo, which the Colorado uses.
Isuzu says this is done for now to help lower the cost of the D-Max (the D-Max outsells the Colorado as a whole), and to make it more accessible to pickup buyers.
(Read: Isuzu D-Max LS 4x2 MT review)
* Mitsubishi Strada - The Strada is old. I own one and I love it. But it is old. Power is a modest 178hp and torque is 350Nm from the 2.5 liter VGT-equipped 4D56 engine.
It has the roomiest back seat but the smallest cargo bed, and a rather low towing capacity. Note that I towed my Toyota Supra, which weighs over 1.5 tons with fluids and two passengers, with my Strada and didn't even notice the added weight when cruising.
The Strada is not exactly in the same class in terms of performance as the Ranger, the BT-50 and the Colorado, but it is significantly cheaper. It's also not very good in traditional off-roading (like hardcore dirt trails), but shines on rally-style farm-to-market dirt roads, showing off its pedigree as a rally-raid mobile with a legacy for winning numerous Paris-Dakar and other long-distance rallies.
It's also the shortest so it makes maneuvering in tight city streets easier, plus it has the smallest turning radius of 5.85m. The Strada feels the best to drive on the highway. I can comfortably cruise at 160-170kph (not that I am saying you should), and the five-speed automatic transmission with INVECS-II manual shifting is responsive to input.
You can really play with the Strada and its cornering attitude. Compared with the other trucks, it actually feels the least truck-like and feels lighter on the move, too. Its brakes are phenomenal. It feels just like every other pickup, but I had the chance to thrash the Strada on Clark International Speedway.
The braking system--in partnership with the suspension--was able to really control the chassis. Transitioning from flat-out at 140-150kph on the track's main straight onto the short course's almost hairpin-like turn one, the Strada slowed and turned with a minimum of pitch and roll. That's with five people on board for five laps. Amazing!
The great news on the horizon is that a new model is set to come out soon to compete with the newer trucks in this segment.
(Read: All-new Triton pickup launched in Thailand)
* Toyota Hilux - This is even older. I had owned one before I got my Strada. Only the 3.0-liter variant is worth considering. Power is an even more modest 163hp and 343Nm. It was the first modern pickup when it broke cover in 2005, but it has practically lived two generations already. It's still a great pickup on its own, but has been left behind by newer, fresher and more technologically advanced rivals.
Having said that, the Hilux is quite comfy if a bit bumpy, and the back seat is still roomier than the newer Ranger and BT50. But considering what it offers, it is quite expensive.
To view the complete specs and figures, just visit our website's Buyers' Guide. As for the tests you mentioned, it's difficult to give a conclusive answer to all of them because of varying driving styles and comfort levels for chassis roll, pitch and squat. You have to try them out yourself and be the judge of what is good or not.
I know this piece may not be comprehensive enough for you. These car-shopping pieces of advice are never meant to be. Instead, they serve merely to actually get you out and test-drive the vehicles yourself. But hopefully it helps you whittle down your short list to pick the newer models, so you can get the most value for your money by acquiring the latest vehicles with the most technology packed into them.
Good luck. Get cracking on your test drives and enjoy!
Botchi Santos
Consumer Editor
Artwork by Trixie Ison
[poll]606[poll]