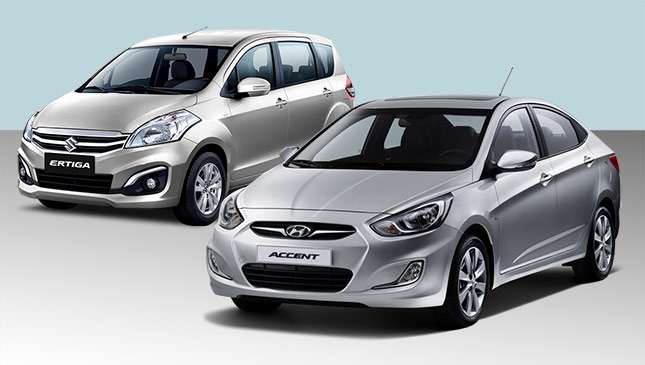 Hello Botchi,
I would like to ask for your opinion on getting our first vehicle since you are one of the experts in this field. We are a family of six and we are considering getting a new ride that we will also use for Uber/Grab. I was already approved for a car loan, but I am torn between the Suzuki Ertiga and the Hyundai Accent as the two only have a P2,000 difference in SRP. Performance-wise and business-wise, can you give me the pros and cons of the two? This will definitely help me make an important decision.
Continue reading below ↓
Recommended Videos
Thank you in advance.
Sincerely yours,
Misch Sorreda
Hi, Misch. Thank you for taking the time to send us an e-mail!
For a family of six, the Hyundai Accent will be tough since it's a small car, whereas the Suzuki Ertiga is advertised as a seven-seat compact or a mini-MPV. I kind of like the styling of the Ertiga, and the engine and transmission deliver surprisingly decent grunt considering it runs on a modest 1.4-liter gasoline engine. I believe the secret is short gearing in the lower speed ranges to help it get moving.
I didn't have a very long opportunity to drive it and have only had it for an afternoon while taping a video, but based on what I experienced I'd say the Ertiga is a pretty good starter car for a young family. Admittedly, when you load up the vehicle with seven adults, that's going to be very tough as space is minimal; they really forced the seven-seat arrangement. But if we're talking about five adults plus two kids in the third row, that should be fine. However, with the third-row seats utilized, it's going to be almost impossible to fit any useful sized luggage.
However, my long-term apprehension with the Ertiga is that parts and servicing/repair know-how outside of the dealership network is limited. It isn't as common as a Toyota, Mitsubishi, Honda or Nissan—or even a Hyundai, so it will be more difficult to have the vehicle repaired or to source parts outside of the dealership. Beyond your warranty period, it might be more expensive to maintain the Suzuki in the long run, and beyond the five years within which most cars deliver faultless worry-free use and operation.
In other words, your local talyer might not be able to fix it as easily or as readily as other brands simply because it isn't a very common car. That's always the risk when buying a car brand or model that isn't very popular. This isn't to say Suzukis aren't reliable, but all cars will, at some point, stop working properly and will need some TLC. When that happens, the Suzuki's upkeep might come as a shock to you, versus say, if you bought a Hyundai Accent (which as I already said, is a tad too small for your family of six).
The problem is, there isn't really any other car I can recommend for you given your budget. If you can stretch it a little further, I highly recommend that you check out the Toyota Avanza. It costs a little more than the Ertiga, but you get the same seven-seat layout, and the same footprint for a comparable budget. Crucially, because it's a Toyota, everyone and their grandmother can most likely fix one, and parts are plentiful outside of the dealership network.
In closing, it's not the cars per se I am concerned about, but the long-term ownership cost for you. A Toyota will be easier and more convenient to own and resell in a few years versus a Suzuki. That doesn't make the Avanza a better product in itself, but it makes owning one and keeping it for the long term much easier.
Hope you understand what I am trying to convey for you Misch! Goodluck!