The A-Class has become a huge seller for Mercedes-Benz in certain markets, so this replacement matters. It'll do well—the old one certainly had issues, but that didn't stop it.
This is pretty much an all-new platform, longer in wheelbase than before, but most of the changes are fundamentally evolutions. It's stronger and lighter, and an extravagant 12cm longer. Funnily enough, there's little extra passenger room to show for the swelling.
Fortunately, there are on-road improvements, too: The poor ride and the unrefined transmissions of the old car have been banished, though only if you spec carefully. AMG Line suspension still makes for a clumsy, crashy car, especially over pockmarked urban roads.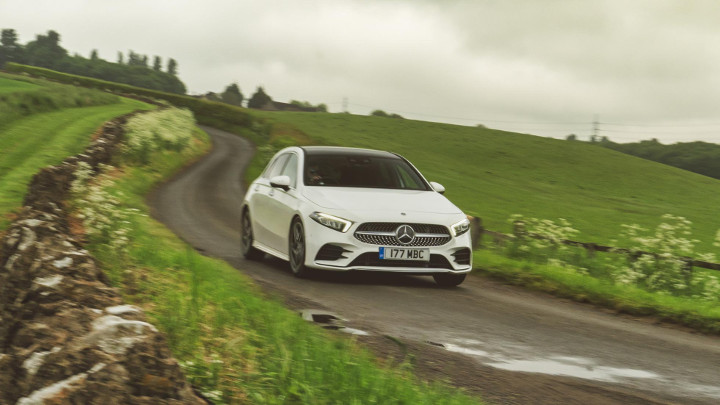 Continue reading below ↓
Recommended Videos
But we'd forgive you for not noticing. What you can't miss is the dash. Mercedes has installed what a pilot would call a 'glass cockpit'—no conventional dials at all, just highly configurable screen displays. It's called MBUX for Mercedes-Benz User Experience. Because everything's an experience these days.
On base cars, it boasts two seven-inch hi-res screens, running navigation and connected services including detailed live traffic. On upscale A-Classes, you get a 10.25-inch central screen, or even a pair of them, and the driver's display is going to a big one, too. That produces a truly spectacular cinemascope.
The voice-activation system, also standard across the range, uses both in-car (for when you're out of signal) and in-cloud decoding. "It accepts natural language—ask it anything," the engineers urged us. The results were spotty.
There are several engines. The 134hp A180 and the 161hp A200 are both 1.3-liter turbopetrols that shut off two cylinders on light throttle. Then there's an actual 2.0-liter engine, also all-new and unrelated to the 1.3-liter unit, in the 187hp A220 and the 221hp A250.
Diesel options are heavily revised over the old A-Class and comprise the 114hp A180d and the 148hp A200d, while if you want something that's less sensible, more sporty, you'll be after the 302hp A35 AMG, which gets its own review right here. Manual gearboxes are standard on the lowlier engines, but most get an automatic by default, with a seven-speed DCT attached to all engines except the A200d, which has a better eight-speed auto.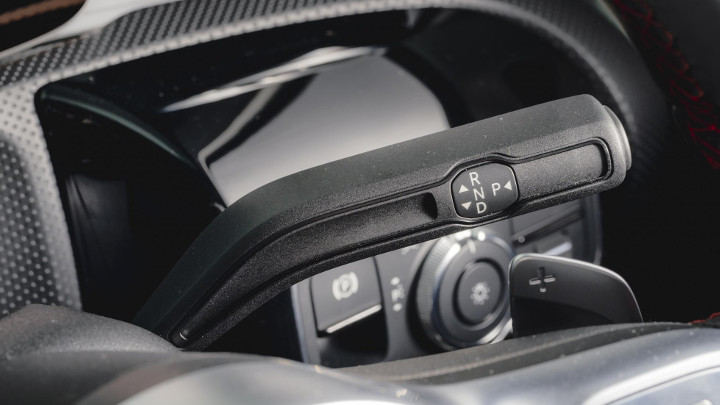 Those new engines, plus the lighter weight, do help cut consumption. So does a remarkably low drag. In fact, the CdA (drag coefficient times cross-sectional area) is lower than a man on a racing bicycle. Drag-lowering measures include detail shaping at the rear end, and alloy wheels with black-painted smooth blanking areas that almost close off the spokes. Actually, the detail was more obsessive than that: A diktat was sent to the tire makers that the lettering on their sidewalls may stand proud by no more than 0.2mm.
All variants start with active lane-keeping assist, collision warning, and autonomous emergency braking. Nothing out of the ordinary there. A more advanced driver-assist package is optionally available, including blind-spot warning, active cruise control, and lane-centring steering support. Even then, its spec is no higher than what's available on a Ford Focus.
On the road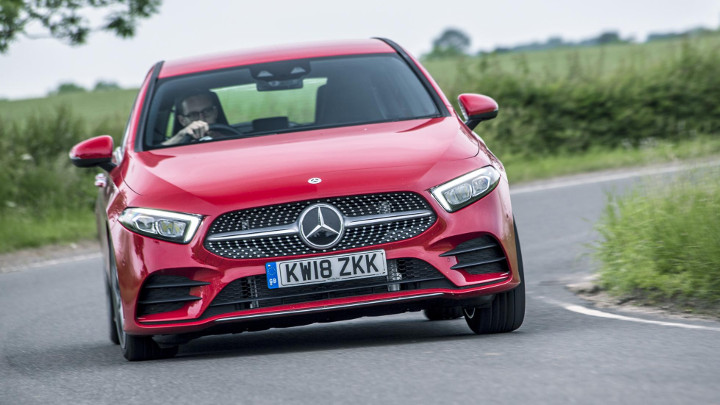 First things first: The A-Class is not as sporty to drive as it looks. It sits bang in the middle of the class in terms of dynamics—not plush enough to feel luxurious, not taut enough to be fun—and thus it lags notably behind class-leaders like the Ford Focus, the VW Golf, and the BMW 1-Series.
Quite how non-plush or non-taut it is depends on how you spec it. The sub-2.0-liter engines get a less sophisticated rear suspension setup, so an A220 or an A250 will feel notably more alert in corners. Though not necessarily comfier: Select AMG Line trim, as the resulting fancier bodykit and wheels will likely convince you to, and you'll endure a very unsettled car over rough roads. Try and resist those big alloys and a base SE is a much more likeable car to drive, if not look at.
The A180d is quiet for a diesel, but painfully slow for open-road overtaking. The A180 and the A200 petrols have a surprisingly keen-sounding 1.3-liter that also appears in Renaults and Nissans, but don't let that put you off. It's a game little engine and is more than enough to haul something as small as the A-Class around.
Even though Merc is far from a pro at manual gearboxes, that's your best bet. The optional seven-speed dual-clutch auto is smooth and attentive most of the time, but occasionally dimwitted and normally at the worst possible moment, as you're trundling through traffic and it drops you screaming into a low gear to the startlement of nearby pedestrians.
The A250 has the stats and performance of a junior hot hatch, but the chassis it's attached to doesn't let it complete the job. You're better off with a lowly spec'd A35 AMG if you're after something resembling fun.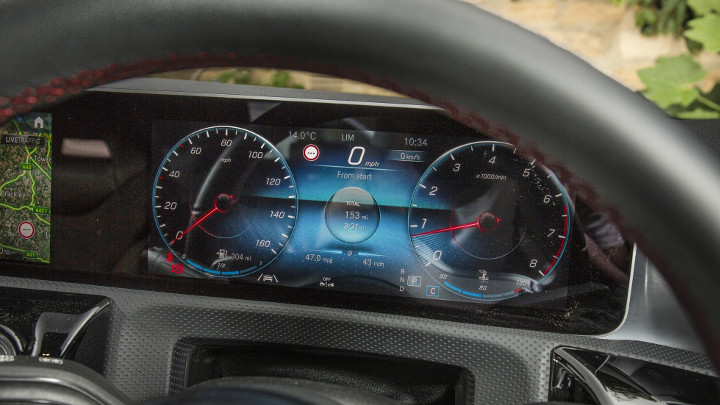 On highways, the A-Class cruises solidly, happy to munch miles with not too much tiring road vibration or tire roar, though as you head expensively up the model range, you might forgive the noise it does make a little less easily. In some markets, the model is available with optional adaptive dampers that add a welcome sharpness in bends while maintaining reasonable urban suppleness.
On the inside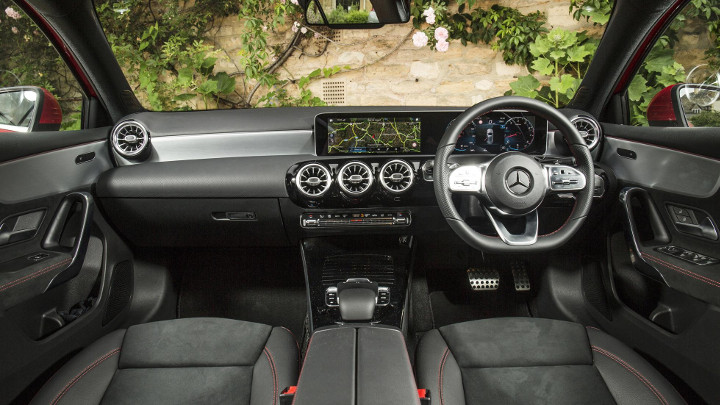 It's not like any other car, especially not in a sensible class like this. The dash is a low-bulk piece of furniture, with the huge screen system on top. The center console is pushed away from you as well, so the overall effect is of pared-back lounge luxury rather than anything too 'automotive.' At night, illumination of strategic interior parts adds a nicely theatrical (and practical) note.
Two sets of steering-wheel controllers let the driver do anything on the screens. Driver or passenger can use a control pad instead, resting their wrists on what looks like a leather-padded accessible-toilet flush lever (we said this isn't an 'automotive' cabin). Ergonomically it's all pretty satisfactory once your fingertips have had time to learn it, though that oversensitive touchpad can brush you right back to the start of a song or podcast if the phone cable goes awry, which can be colossally frustrating.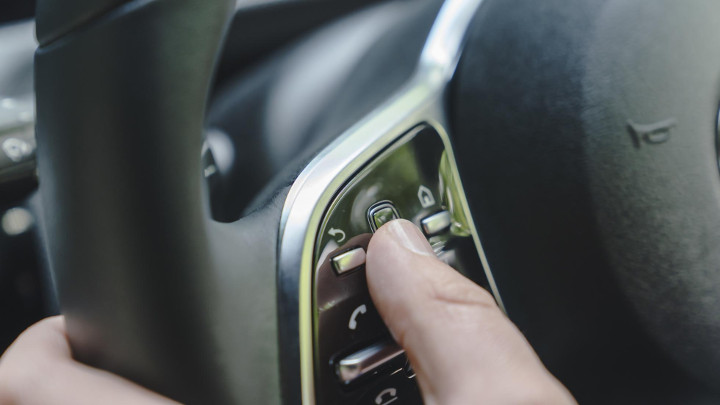 General material quality is high, though it's annoying that among the flimsiest and cheapest-feeling moldings are the two you often use: the column stalks, which operate wipers, indicators, and transmission selection.
The big-screen option is massively impressive for graphics, snappy-responding smoothness, contrast, and freedom from reflections. The setup can be configured in so many ways Mercedes has a demo app for customers' iPads so they can try it out at home. After a couple of long journeys, you'll have figured out your favorite layout.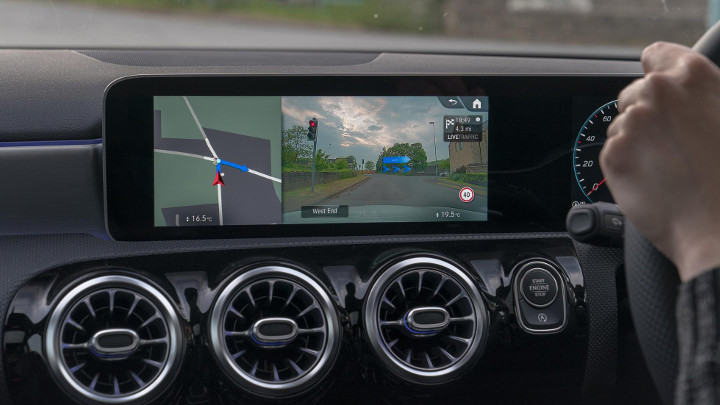 The optional augmented satnav—which plays a video of the road ahead with big arrows pointing you down trickier-to-spot streets, like it's a big computer game—is hugely impressive. Just a shame the nav app on your phone will almost always know a better route, making the car's system a bit more style than substance.
Merc's entry-level option taunts you by putting smaller, squarer displays within the same widescreen frame, so you're constantly reminded of what you're missing out on. It all still works well—and with less confusion, because there's less customization—and if you're not bothered about having huge nav displays, it all functions very nearly as well. Just be prepared for frequent FOMO.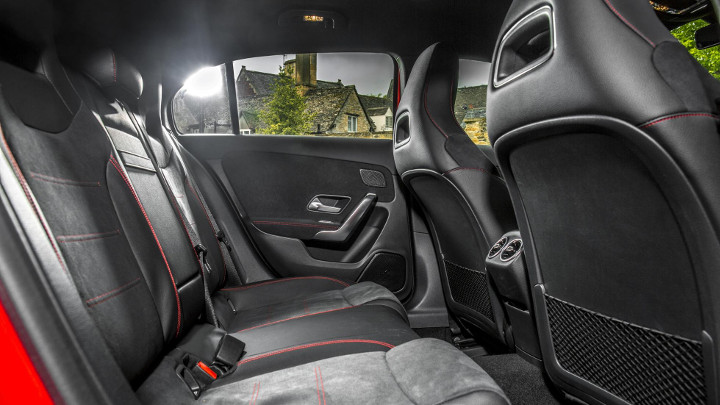 Voice activation, then. We asked the most common question in any car: "Are we nearly there yet?" It didn't get it. But "when will we get there?" did produce our ETA, so that's not bad. And destination entry by voice was good, too. Anyway, it has 'learning software,' so it might understand our first question better next time.
It also learns habits—so say you tend to switch from music streaming to radio for the news at 6pm, it'll start suggesting you do that after a while. The caveat is—from experiences of everyone in the office having a go—anyone with a regional accent may struggle a little. Perhaps the car can adapt to that, too, but if it doesn't respond the first three or four times you try it, you'll give up and use buttons before you get too angry.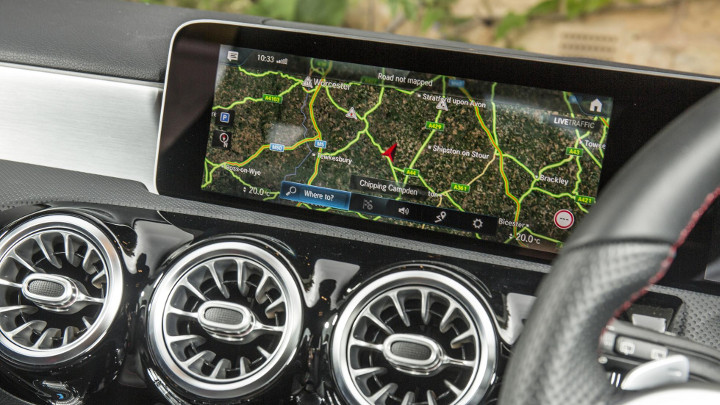 A £495 (P33,000) option pack adds phone mirroring if you don't care for the Mercedes navigation, plus a wireless charging pad. Standard is a USB up front and two in the rear, but note they're the USB-C type, so you'll have to use adapters or buy different cables entirely. Is there such a thing as too forward-thinking?
The seats are in Merc's usual firm and strangely flat-feeling style, but again, as in any good Mercedes, you soon stop noticing them because they're built for long-haul support.
Life's less good in the back. The poor headroom of the old A-Class has been resolved, and knee room is a little better too. But foot space, often the real determinant of backseat comfort, is pretty tight unless the front seats are raised by several notches. Basically, this isn't the car for lanky families.
Verdict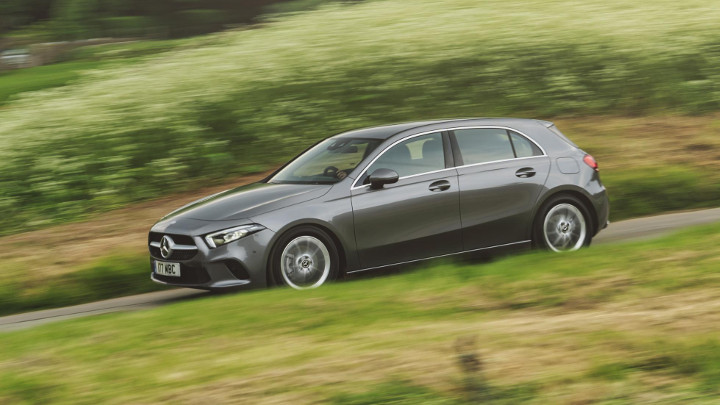 The A-Class, especially with the enormo-screen option, has the potential to be a feel-good car. It's solid, quiet if you don't nail it, smooth-riding if you spec carefully, well-made, and safe. There's more affirmation in the fact that if you buy a Mercedes-Benz, no-one will question you.
But pick away at it and the argument has holes. The small petrol engine might be all-new, but it's unrefined and not even very economical. The A180d is a bit of a slug. The cornering is none too engaging. Backseat room is nothing special. In these fundamentals, it hasn't moved the class on.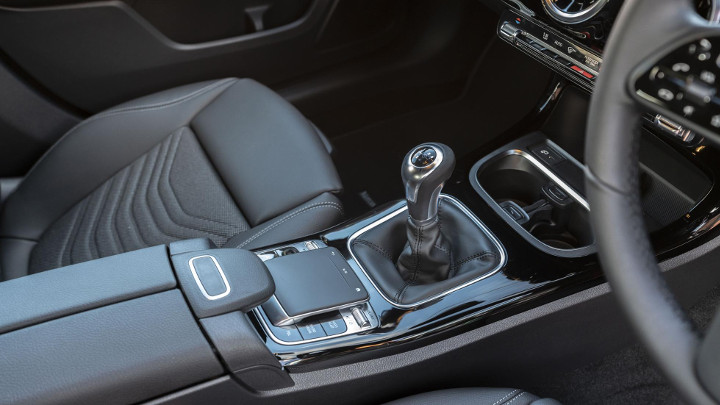 Still, it doesn't pander to the traditional road-test criteria. It has some real wow factor with the connectivity, which to some people is a greater priority than any of that 'handling' palaver. If you look at the way most people drive, the A-Class probably does what will make them happy. When its rivals catch up in terms of screen acreage, though, it could be in serious trouble.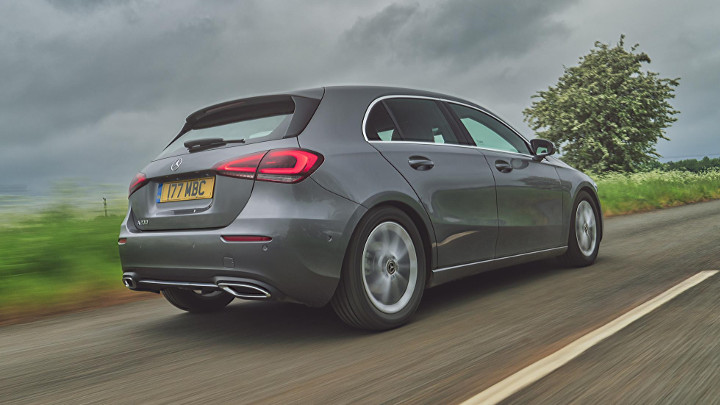 NOTE: This article first appeared on TopGear.com. Minor edits have been made.