This is a Mercedes E-Class wagon with extra ride height, some body cladding, 4WD, and a new name: All-Terrain. It comes with a choice of two diesel engines and expands the E-Class portfolio beyond the regular sedan and wagon. Just in case it's not obvious enough already, it's aimed squarely at the Audi A6 Allroad and the Volvo V90 Cross Country that's due early next year.
If we were to look into a crystal ball, we could guess that the All-Terrain range might expand to include other engines, and could be rolled out to include the C-Class as well. But at the moment, this feels like a tentative toe in the water. It's only sold in Europe and powered exclsuively by diesel. No gasoline, no hybrid. If it's a success, that might change. Personally, I hope it changes to include a twin turbo V8 E63 All-Terrain. With drift mode. For snowdrifts, you understand...
ADVERTISEMENT - CONTINUE READING BELOW ↓
The All-Terrain rides 29mm higher than the wagon, the ride height boosted 14mm by wheels fitted with relatively high profile 245/45 tires and 15mm by a suspension lift. Merc's air suspension is standard, and if you use the rocker switch to stick it in All-Terrain mode, the standard air suspension will push you another 20mm into the air. There's another setting above that for full-on rock crawling, with a maximum of 156mm of ground clearance.
On the road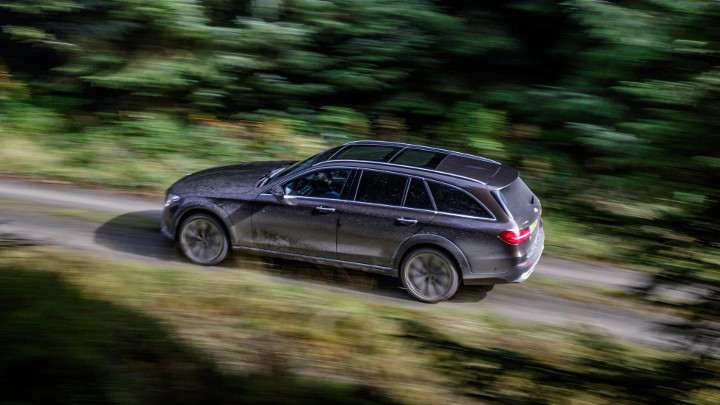 ADVERTISEMENT - CONTINUE READING BELOW ↓
Recommended Videos
As we said, there's no gasoline and no hybrid. Merc seems to think this is an old-school car and will have old-school buyers. That's probably right—the All-Terrain is a car for the country set. The well-heeled country set.
The big straight-six diesel, which is also available in a load of other Mercs, is a meaty thing. With 340hp and 700Nm of torque from nothing (okay, 1,200rpm), it's more than powerful enough to shove the All-Terrain along at a fair old rate of knots, or—more likely—make short shrift of towing a horsebox out of a wet field.
We'd go so far as to say it's unreasonably rapid. A normal E-Class wagon equipped with this engine does 0-100kph in 5.1sec, for heaven's sake. The All-Terrain adds 0.3sec to that, but still. The top speed is a limited 250kph, and you're looking at 168g/km of CO2 and 15.4km/L. That said, for over 1,600km of admittedly mainly motorway driving, we'd say fuel economy is about 17.4km/L. Which is very impressive.
ADVERTISEMENT - CONTINUE READING BELOW ↓
Personally, I think Merc should grow a pair and bring the E22od into more markets as well. This uses the all-new OM654 2.0-liter turbodiesel, developing 191hp, 400Nm at 1600rpm, which is good for 23.1km/L (on the old NEDC cycle), and 137g/km of CO2. It would also usefully lower the entry ticket by a hefty sum.
Both engines are beautiful cruisers, and yeah, money no object, you'd have the 400d. It's gutsy and oozes torque, has an answer no matter what the situation, is hushed, refined and even sounds halfway interesting. The old 350d diesel V6 was good, but this one is just so much better.
You have to extend the 220d more often, using almost everything it has rather than simply surfing the 400d's torque wave. But it's the more responsive unit, the more efficient, and it's just as hushed at a cruise. But hey-ho. They're diesels, they do the job, and they do it well. Both are equipped with the nine-speed automatic gearbox, which does a fine job of making you unaware just how busy it's keeping itself.
ADVERTISEMENT - CONTINUE READING BELOW ↓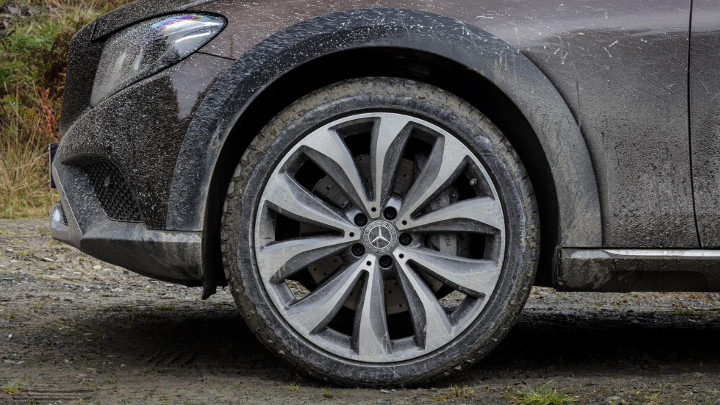 Is it good to drive? Yes, it's terrific, but not in the way you're thinking. The phrase to bear in mind here is fitness for purpose. So, imagine the sort of person who's going to be driving it. Put yourself in their shoes. Got that? Right, then you'll be as delighted as we are that the All-Terrain has none of a hot hatch's crispness, corners no more than cleanly and competently, and places barely any emphasis on handling dexterity.
ADVERTISEMENT - CONTINUE READING BELOW ↓
Sure, it's capable, all right, but the only reason you'd go nudging an apex is if you wanted to see how the suspension coped with a little light off-roading. What it is, though, is properly soothing. The relatively tall-walled 245/45 tires and the softer, longer-travel suspension give it a lovely gait. You don't push it hard, because it doesn't like that and somehow encourages you to adopt its pace of life.
Occasionally, one of the big, heavy wheels will reveal just how big and heavy it is by shuddering over a fat expansion joint, but that's it. Settled, quiet, and refined, the All-Terrain drives very contentedly. That's the word that best describes it, in fact: contented.
So it wafts about the place, suspension sighing with the surface, your cares buffed away in supple silence. And it'll off-road, too. Way better than you'd ever imagine—but that's always the case with anything kitted out with generous ground clearance and halfway-decent tires. Even taking that into account, the All-Terrain is impressive. Pop the mode switch into All-Terrain and the suspension can be raised another 20mm (for the full 156mm clearance) at speeds up to 35kph for a spot of heavy-duty rock crawling.
ADVERTISEMENT - CONTINUE READING BELOW ↓
On the inside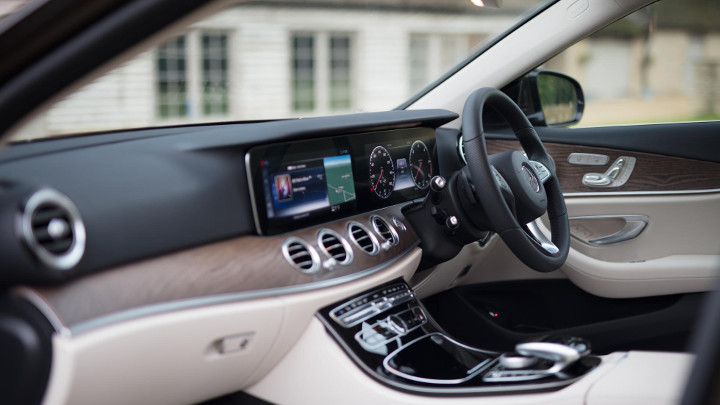 The interior is just like that of a regular E-Class wagon, which is about the highest praise that can be dished out right now. Well, provided you like a lot of tech and the possible confusion that goes with it. I do wonder if All-Terrain owners are the type that might find the twin-screen layout and the various driver aids a bit much.
ADVERTISEMENT - CONTINUE READING BELOW ↓
The design and execution is lovely, and many of the systems (lane keep, head-up display), most of which are optional, can be switched off simply. The thumb pads on the (round!) steering wheel do take some getting used to, though, and the blind spot caused by the A-pillar and the door mirror is too big. But once everything is set up and you've sorted the scrolling speed of the thumb pads and worked out that controlling the infotainment is better done with the click wheel rather than the touch pad, you'll be more at ease.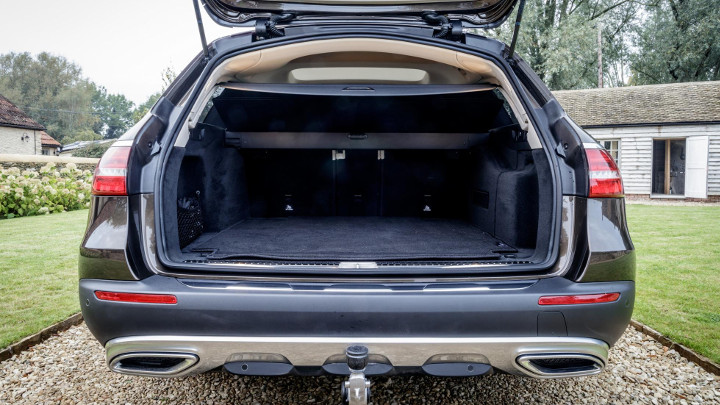 ADVERTISEMENT - CONTINUE READING BELOW ↓
Further back, things are much simpler to understand. There will be no complaints from the backseat, and although I don't know what the Labrador equivalent of 640 liters is, I can assure you it is many. The seats fold easily, the tailgate is electric (if you like that sort of thing), and there are endless spec options. We quite like the two-tone brown leather. With dark-green paint outside.
Verdict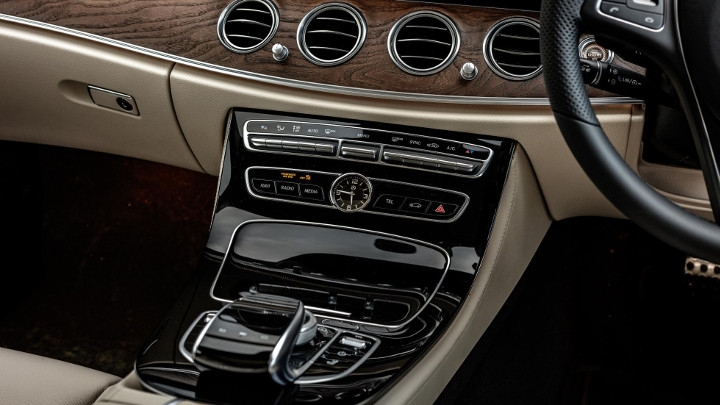 ADVERTISEMENT - CONTINUE READING BELOW ↓
Mercedes-Benz has jumped aboard the Allroad bandwagon with predictably impressive results and precisely no surprises. It's not revolutionary, but in refocusing the dynamics to deliver a more relaxed driving experience, the All-Terrain is the most compelling E-Class wagon out there. Still spacious, but now with added capabilities and extra car-park protection.
The body-cladding is an acquired taste and might dissuade a few people, but I'd have this over a GLE SUV any day of the week. And over pretty much any other family chariot out there.
NOTE: This article first appeared on TopGear.com. Minor edits have been made.